When businesses start their search for ERP software that can help them run their business smarter and more efficiently, they have many options. It's also a high-stakes decision, because selecting an ERP system is a big investment that can have a direct impact on your company's growth and the ease of managing that growth.
Organisations ready to move past entry-level systems may consider offerings from NetSuite and SAP. SAP has several midmarket ERPs that often compete with one another and are of varying strategic importance to the software provider. NetSuite, on the other hand, is fully dedicated to one product offering proven to scale with midsize businesses. To give you a better sense of what these systems offer and how they compare with NetSuite, we'll break down three systems in detail: SAP S/4HANA Cloud, Public Edition; SAP Business One; and SAP Business ByDesign.
What Is ERP?
An ERP system is like the central nervous system of a business's technology stack. It uses a central database to put information from across your business — including financials, inventory, orders, customers, and employees — in one place. Many employees use the system every day to complete essential work. An ERP system can connect data and processes that touch multiple departments to automate and simplify key tasks while delivering reports and insights on fundamental aspects of your business.
NetSuite vs. SAP: An Overview
NetSuite and SAP have both developed widely used midmarket ERP systems. While NetSuite offers a single cloud-based ERP product, SAP has three distinct systems.
NetSuite
NetSuite is a business management system with a variety of modules that help businesses better manage their financials and operations and increase automation across the business. The resulting improvements help companies provide better customer experiences and boost employee productivity. Although accounting and financial reporting are at the heart of NetSuite's system, it also has extensive capabilities for inventory management, order management, professional services automation (PSA), CRM, analytics, planning and budgeting, HR, and commerce. NetSuite puts critical business data from all of these business functions in one place, using dashboards and easy-to-use reporting tools to generate the insights you need.
From the beginning, NetSuite has been a multi-tenant cloud system deployed via the software-as-a-service (SaaS) model. This means all businesses running NetSuite receive automatic biannual upgrades as well as patches and security updates. All customers are always on the same version of the software. While companies can select the various modules they need and tailor the system to their needs through various customisation tools, NetSuite offers only one core ERP solution.
SAP
SAP's three systems for small and midmarket companies have each found traction with businesses in certain verticals or of a particular size. SAP S/4HANA and Business One can be deployed on-premises or via the cloud, while Business ByDesign is a cloud-only SaaS product.
All three ERP systems come with accounting and finance features and support inventory management, manufacturing, professional services, and human resources to varying degrees. Customers can connect these ERP platforms to other SAP solutions for expanded capabilities like analytics, human capital management (HCM), CRM, procurement, expense management, or ecommerce, but these are not akin to NetSuite modules because many are built on different codebases and require often-complex integrations. In some cases, businesses are forced to use complementary SAP software designed for larger businesses because there are no good alternatives.
Construction machinery manufacturer XCMG found the rigid design of its SAP system slowed the business. When XCMG entered new markets, it took several months to set those up in the system. With NetSuite, setup and reports on various entities are much faster.
Product Maturity and History
Evan Goldberg and Oracle cofounder Larry Ellison started NetSuite in 1998 as the first-ever cloud software company. Originally called NetLedger, the company started as an accounting solution and steadily added new functionality to manage other aspects of a business. Eventually, it had a "suite" of products that spanned finance, sales, supply chain, and reporting, so NetLedger became NetSuite. NetSuite addressed a clear market need and grew into a successful company, going public in 2007 before Oracle acquired it for $9.3 billion in 2016.
Throughout its entire history, NetSuite has focused solely on one system that has always lived in the cloud. All development, sales, implementation, and support resources have always been dedicated to a single ERP offering. Today NetSuite has more than customers in 217 countries and territories.
Five former IBM employees founded SAP in Germany in 1972 and it has since become one of the world's largest software companies. SAP serves the full range of small businesses to large enterprises. SAP went public in 1988 and is currently traded on German and US exchanges.
The vendor has a long history of developing on-premises ERP and other core business systems. More recently, it has moved some of those systems to the cloud, but in most cases they were shifted to the cloud rather than rebuilt for cloud deployment. Unlike NetSuite, SAP has a history of reducing investment in and eventually sunsetting its product offerings. This creates uncertainty about the long-term future of its systems. For example, in late 2022, news broke that starting just four months later, SAP ByDesign customers would receive only legally required and critical security updates, putting those companies in a difficult spot.
NetSuite vs. SAP S/4HANA Cloud, Public Edition
SAP released S/4HANA in 2015 as its next-generation ERP system for enterprises but has since launched an effort to get more midmarket organisations to use the solution through its "Grow With SAP" initiative. There are four versions of S/4HANA, with two on-premises and two cloud options, after it cut a fifth cloud "extended edition."(opens in a new tab) Midsize companies are most likely to look at S/4HANA Cloud, Public Edition, so we'll focus on that specific version. Note that the public cloud edition has also had four different names in five years.
It's critical to note that S/4HANA Cloud, Public Edition has limitations in both overall capabilities and customisation options compared to the on-premises versions of the software, but some sales reps are not always transparent about the specific version they're selling, simply calling it "S/4HANA Cloud" when it could be the cloud private edition, which is a hosted cloud rather than SaaS offering. The numerous versions of S/4HANA also pose the risk that you will select the wrong one and have to reimplement — consider the extended edition that is no longer available. Moving from one edition of S/4HANA to another is a major project akin to replacing it with any other new system.
Despite being on the market for several years, the public cloud edition of S/4HANA still has limited adoption and a small fraction of NetSuite's customers.
Functional Considerations
S/4HANA Cloud, Public Edition comes with a solid set of native capabilities for finance and other departments. However, S/4HANA public edition's Group Reporting tool for financial consolidations and intercompany netting of transactions between subsidiaries may not fully satisfy your needs on its own. Group Reporting is based on legacy technology, and you may need additional applications to handle all of your use cases. Unlike NetSuite, SAP's system does not come standard with CRM and analytics applications, either.
NetSuite has robust financial features and comes standard with financial consolidation and intercompany netting functionality. Nontechnical users can easily learn how to pull reports on data from across the business and customise dashboards with SuiteAnalytics. NetSuite also includes inventory management, order management, CRM, procurement, and expense management capabilities out of the box in most editions. It has optional modules for HCM, financial planning and budgeting, PSA, advanced analytics, ecommerce, and more.
Database and Architecture Considerations
S/4HANA's heritage is in SAP's ECC (20 years old) and R/3 (30-plus years old) ERP solutions, with the newest system using a similar codebase but hosted on SAP's HANA database. The public cloud edition has less functionality and customisability than other versions because it utilises only a subset of the total S/4HANA codebase.
S/4HANA Cloud, Public Edition is a multi-tenant solution that runs in SAP's own data centres. Beyond critical patches and fixes, the public cloud version of S/4HANA receives continuous features updates throughout the year in addition to two annual updates. While this sounds beneficial, it can mean your IT team spends a lot of time understanding and testing these updates to see how they impact your instance and what adjustments it needs to make.
NetSuite is also a multi-tenant cloud solution, with most customers now running on Oracle Cloud Infrastructure (OCI)(opens in a new tab) data centres and the rest on NetSuite owned and operated data centres. OCI offers best-in-class performance and is rolling out innovative features like Oracle Autonomous Database that will continue to increase performance. NetSuite has twice-per-year upgrades, as well, but customers can access the new version in a test environment before the release takes effect to familiarise themselves with any changes. Additionally, all NetSuite customisations and configurations carry forward with upgrades.
Platform and Integration Capabilities
In contrast with NetSuite's modular design, S/4HANA Cloud, Public Edition is designed to connect with other SAP products like Ariba for procurement, SuccessFactors for HR, and SAP Analytics Cloud for deeper reporting. Integrating those products to the public cloud version of S/4HANA can require middleware along with consulting work to set up and maintain them.
NetSuite modules that add functionality do not require integrations because they were built for NetSuite on the same codebase. This means your staff sees just one user interface as they move between modules and logs in only once.
Customers can extend this version of S/4HANA with apps available through the SAP Store, but currently there are fewer than 200 apps marked as compatible with the public cloud edition, only a few of which carry official endorsement from SAP. This compares to nearly 650 SuiteApps available on SuiteApp.com(opens in a new tab), all of which work with NetSuite ERP.
Configurations and Customisations
SAP partners play a primary role in configuring business processes and making other customisations in S/4HANA Cloud, Public Edition, which can quickly get expensive. But there's an even bigger problem: Processes and features are highly standardised, and the system lacks the flexibility of NetSuite.
With S/4HANA Cloud, Public Edition, developers must use what SAP calls the Self-Service Configuration User Interface (SSCUI) to configure the software. SAP highlights its Business Technology Platform (BTP) as a way to extend the solution, but a partner must develop the application and integrate it with the system. Even then, there are limitations. Customers can use only SAP-approved APIs for integration with the public cloud version of S/4HANA. Additionally, existing SAP customers cannot apply any customisations from their previous system to this software.
NetSuite has 20-plus industry-specific packages built to address the needs of those industries and reduce the need for customisation. But since every business is unique, the platform is designed to let business users and administrators configure and customise the platform as necessary. For example, NetSuite SuiteFlow gives customers a drag-and-drop, what you see is what you get (WYSIWYG) interface where they can build automation workflows around various record types, events, and rules.
Here's an example that drives home the difference in how these systems approach configurability: Adding a custom field in a NetSuite customer record can be done by your employee in 10 to 15 minutes, while a similar change in S/4HANA public cloud could take a partner two or three weeks and bring a hefty fee.
| | Oracle NetSuite | SAP S/4HANA Cloud, Public Edition |
| --- | --- | --- |
| True Cloud With Strong Cloud Heritage | | |
| Unified Platform | | |
| Native Financial Consolidation | | |
| Out-of-the-Box Leading Practices | | |
| Direct Vendor Relationship | | |
| Easy to Customise | | |
| Ability to Scale | | |
= Native capabilities
= Requires additional solution or partner integrations
= Weak or no functionality
NetSuite vs. Grow with SAP
SAP recently launched a new bundled offering called "Grow With SAP" that includes S/4HANA Cloud, Public Edition and targets midsize businesses. Grow with SAP is available only to net-new customers and is designed for companies with roughly $100 million to $1 billion in revenue and up to 2,000 employees. It packages the S/4HANA ERP with SAP's Business Technology platform, as well as preconfigured processes, automation bots, and tools to help companies build and enhance workflows.
The vendor says Grow with SAP customers can have a "technical go-live" in as little as four to six weeks with a fixed-rate implementation that uses SAP's Activate framework. Customers get access to SAP Build, a solution to help employees automate processes and enhance existing applications. Companies that purchase the Grow with SAP offering also get access to the SAP user community and technical training resources.
Pushing the public cloud edition of S/4HANA into the midmarket makes sense as SAP starts to phase out Business ByDesign, especially since Business One serves small and midsize businesses. SAP will offer deep discounts to get in the door with these companies, though the cost could rise steeply over time as you add and integrate other software with the ERP.
Don't overlook the fact that Grow with SAP is not a separate software offering. It is still S/4HANA Cloud, Public Edition, essentially a "light" version of an enterprise-grade system with the same pitfalls described in the previous section. However, SAP and its partners may avoid calling that out — interestingly, the announcement on Grow with SAP(opens in a new tab) from CEO Christian Klein includes no mention of S/4HANA.
Grow with SAP has some similarities to NetSuite's SuiteSuccess implementation methodology, which embeds industry-specific best practices, processes, reports, and dashboards into your system. SuiteSuccess gets customers live faster and expedites time-to-value since it's designed to meet their specific needs from the start. But there are a couple critical differences: SuiteSuccess has a proven track record because it has been used across thousands of implementations, and the NetSuite platform has built-in flexibility to meet your specific needs. Grow with SAP is a new program with very few references, and in all the public cloud edition of S/4HANA has just a couple thousand live customers. S/4HANA public cloud edition is more rigid and relies on Business Technology Platform extensions for customisations, an imperfect solution.
NetSuite vs. Rise with SAP
Rise with SAP is another S/4HANA cloud package that the company introduced in 2021 to increase adoption of its cloud software. It is an earlier incarnation of Grow with SAP but for larger customers that want either S/4HANA Cloud, Public Edition or S/4HANA Cloud, Private Edition. The bundle includes some industry-specific features. Rise with SAP had the initial goal of moving existing customers using on-premises SAP systems to the cloud, but when that was not as successful as hoped, the company shifted to new customers.
Rise with SAP uses a process discovery tool to analyse your business workflows, compare them to industry benchmarks, and provide recommendations based on that analysis that often involve buying additional SAP solutions. This approach also leans on the SAP Business Technology Platform to connect your ERP with other SAP and third-party applications and includes tools to help business users configure the system to their needs. All of this is rolled into one price.
But note that this offering may still include outside parties. For example, SAP provides the software, a partner will likely handle the implementation, and a large cloud service provider like Microsoft Azure or Amazon Web Services (AWS) might host it. That can make it unclear who is responsible for problems after going live and cause confusion and frustration for customers.
NetSuite, on the other hand, owns the software, implementation, and data centres.
NetSuite vs. SAP Business One (B1)
SAP Business One is a solution targeting smaller businesses, which is why it's one of the company's most widely used products. The history of SAP Business One (B1) goes back more than 20 years and the latest version, 10.0, came out in 2020. There are two versions of Business One: on-premises and hosted cloud.
Business One often draws customers in with low upfront licensing prices, but the total cost of ownership can increase over time and is hard to calculate. In many cases, the system struggles to scale as your business grows larger and more complicated.
Functional Considerations
Financials
SAP Business One has basic financial features but struggles with capabilities that growing or slightly more mature businesses might need. For example, there is no built-in support for financial consolidation, so you must purchase an additional application from SAP or a partner to consolidate accounts from multiple entities or regions. If your company has any subsidiaries or operates internationally, then every entity in SAP Business One requires a separate database, and users must log in and log out of each entity.
Additionally, your accountants cannot edit or remove financial transactions in Business One and cannot automate depreciation of fixed assets.
NetSuite offers financial consolidation and intercompany consolidations as part of its standard solution. Firms that do business in multiple currencies or manage other aspects of their subsidiaries can add the NetSuite OneWorld module to simplify multicurrency consolidations and reporting by subsidiary. And NetSuite's Fixed Assets Management module automatically calculates depreciation.
Operations
Business One is popular with products companies like retailers, distributors, and manufacturers because it has native inventory management and material requirements planning (MRP) functions. It also comes with some HR management features. However, the system falls short in other areas of the supply chain: It has no native offerings for warehouse management (WMS) or more advanced manufacturing and includes limited demand planning capabilities. Therefore, some customers may need to purchase multiple third-party solutions and integrate them with their SAP Business One ERP.
The core NetSuite product has deep inventory management functionality and modules for related functions. For example, NetSuite Demand Planning can pull data from your ERP to build demand and supply plans based on prior sales and includes MRP capabilities to build production plans and bills of material (BOMs) for manufacturing. NetSuite WMS is another module that boosts productivity and reduces waste in the warehouse. If you need solutions for payroll, workforce management, or performance management, NetSuite SuitePeople can address your needs.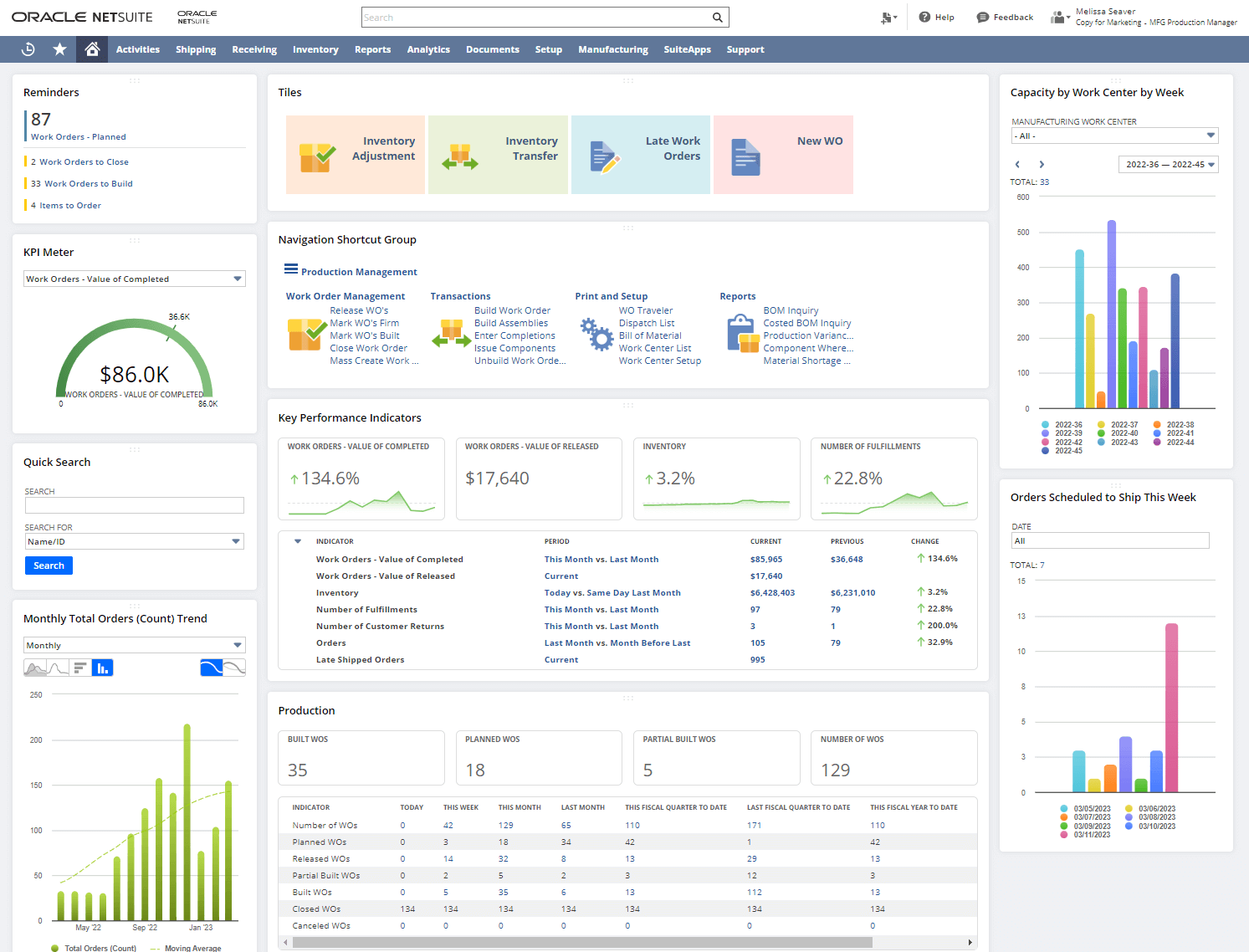 Reporting and Analytics
Business One relies on numerous reporting tools for businesses to gather the insights they need and drill down from summary-level data to the details. You may have to pay your partner to set up certain tools and build some of the custom reports you need.
Compare this to NetSuite's built-in reporting tool, SuiteAnalytics, which lets users easily drill down from the summary level to detailed data points on information from across the business.
They can also monitor key information in dashboards that update in real time — all without adding any other tools.
Database and Architecture Considerations
As noted earlier, the cloud version of Business One is hosted cloud, or effectively an on-premises solution migrated to the cloud. Your Business One partner or a large infrastructure provider like AWS or Google Cloud will host the software, meaning companies may need to build and pay for infrastructure they need only during peak times.
Since Business One is not a multi-tenant SaaS solution like NetSuite, customers do not receive automatic upgrades. SAP releases "feature packs" every quarter that bring small improvements but fall well short of a full release. Companies also decide when to implement these updates, which typically come with billable hours from a system expert each time. When version 10.0 came out, a study found that only 17% of customers(opens in a new tab) planned to upgrade in the next year.
The fact that multisubsidiary businesses require multiple instances of Business One leaves you with multiple sources of siloed data, further complicating consolidations and intercompany transactions.
Because Business One is designed for small, relatively simple businesses, there is the risk of outgrowing it and making the expensive transition to S/4 HANA sooner than expected. NetSuite supports companies ranging from seed-stage startups to billion-plus-dollar enterprises. The platform is built for scalability, throttling up and down as your needs change, so that it can be the last ERP businesses ever buy.
Platform and Integration Capabilities
The average Business One customer uses seven solutions(opens in a new tab) from various software providers, according to an SAP executive. Integrating these solutions is no small feat, as they have different codebases that will require consulting hours from the partner to implement, configure, and test.
This differs from NetSuite's approach of a "suite" of modules that are natively integrated and share a common user interface. There are no integrations to manage nor pay for between NetSuite WMS and NetSuite ERP or NetSuite OneWorld and the ERP, for example.
Outdoor grill and stove manufacturer Camp Chef struggled to support B2B and B2C sales on Business One and ran into challenges integrating the ERP system with its ecommerce solutions. Integrating that software with NetSuite proved far easier, and the system has supported the brand's rapid multichannel growth.
Configurations and Customisations
Many system customisations in SAP Business One require the assistance of partners, representing another substantial cost and risk. In addition, many businesses will have to purchase the Boyum Usability Package for Business One to execute many simple configurations, such as creating custom fields. The Boyum Usability Package does not negate the need for partner assistance but rather makes it easier for consultants to complete work that previously required developers. Although you may not need to configure or customise many aspects of the system early on, your needs will likely evolve, and this could pose development challenges in the future.
NetSuite is highly configurable, and once employees understand the system, they can add, remove, and adjust transactions, forms, fields, and reports themselves without writing any code, meaning less need for pricey consultants. NetSuite SuiteFlow, for instance, lets employees build customisation workflows for different functions through an intuitive UI.
| | Oracle NetSuite | SAP Business One |
| --- | --- | --- |
| True Cloud With Strong Cloud Heritage | | |
| Unified Platform | | |
| Native Financial Consolidation | | |
| Out-of-the-Box Leading Practices | | |
| Direct Vendor Relationship | | |
| Easy to Extend | | |
| Ability to Scale | | |
= Native capabilities
= Requires additional solution or partner integrations
= Weak or no functionality
NetSuite vs. SAP ByDesign
SAP Business ByDesign is a midmarket product that most closely resembles NetSuite in terms of system architecture and the businesses it serves, but it is no longer a product SAP is actively investing in or developing. Effective April 2023, new development for ByDesign will be limited to critical security and legally required updates, with SAP no longer producing new functionality. It's the beginning of the end for a product with a checkered history.
After investing several billion dollars to develop it, SAP released ByDesign in 2007, but customers soon had major problems, and SAP pulled it off the market just a year later. The vendor halted development of the system again in 2013 before reintroducing it in 2014, but it never took off — today there are believed to be less than 3,000 ByDesign customers, amounting to less than 10% of NetSuite's customer base. Most of these businesses are in the services space, and SAP will probably push many of them to S/4HANA Public Cloud, which requires a full reimplementation.
Functional Considerations
Moving forward, new functionality for ByDesign will be available only through extensions developed with SAP's Business Technology Platform and predominantly by SAP partners. Product servicing will largely fall on Indian IT service provider HCLTech(opens in a new tab), per German newspaper Handelsblatt. These steps are indicative of SAP's lack of commitment to ByDesign and the limited future it sees for the product.
ByDesign's accounting and finance features lack the breadth and depth of NetSuite. The solution has no native financial consolidation and limited revenue recognition capabilities that struggle to satisfy multiple standards like GAAP and IFRS. ByDesign does include an integration with Microsoft Excel, which many finance and accounting professionals like, but most businesses are trying to move away from spreadsheets when they invest in an ERP system.
With limited budgeting capabilities, many businesses will need an SAP Business Planning and Consolidation (BPC) licence for financial planning and budgeting. Business Planning and Consolidation is a complex system that will likely require the help of a specialised partner that understands the system, adding extra cost.
NetSuite has best-in-class accounting capabilities and financial consolidation in the base product. Its revenue management module can automate revenue recognition based on user-configured rules and in accordance with various standards. In addition, NetSuite Planning and Budgeting (NSPB) pulls in data from your ERP, making it much faster and easier to create top-down or bottom-up budgets and forecasts.
Database and Architecture Considerations
Unlike other SAP products, ByDesign has always been a SaaS product built for the cloud, like NetSuite. That means customers received automatic updates and are all on the same version of the software. SAP hosts the solution in its own data centres.
Customers previously received quarterly updates, though that's likely no longer the case since it's now in maintenance mode. There is no published upgrade path for the core product, raising concerns about implementing partner add-ons and falling behind on functionality.
Platform and Integration Capabilities
Companies that want to link ByDesign to non-SAP systems will likely need to purchase the SAP Integration Suite middleware. There is a basic edition and standard edition of the SAP Integration Suite, with the standard edition giving customers additional features but also carrying a much higher price tag. This is yet another product partners will charge to configure and integrate with your ERP system.
Building connections to any other applications, whether from SAP or another vendor, will require the assistance of a partner. For instance, organisations that want HCM will need SAP SuccessFactors, a robust but expensive solution designed for large companies. Some applications may even require you to engage a second partner with more specialised knowledge.
Configurations and Customisations
Broadly speaking, ByDesign cannot match the flexibility of NetSuite. Business processes are standardised, and changing them is not easy, so you'll need to pay for consulting hours from a partner. There is also the issue that different partners will develop add-ons and customisations in different ways, making it challenging for other partners to assist with those. That's a problem if your partner stops supporting ByDesign, shuts down, or you want to change partners. Conversely, NetSuite has been designed to empower administrators and business users to tailor the system to their needs.
ByDesign has a nonvisual Workflow Rules tool, but it has limited capabilities. Workflows can only be triggered by user actions and cannot be time-based. NetSuite SuiteFlow is a visual tool your staff can use to build all sorts of business processes by dragging and dropping items. SuiteFlow works across modules so companies can automate tasks across roles and departments.
| | Oracle NetSuite | SAP Business ByDesign |
| --- | --- | --- |
| True Cloud With Strong Cloud Heritage | | |
| Unified Platform | | |
| Native Financial Consolidation | | |
| Out-of-the-Box Leading Practices | | |
| Direct Vendor Relationship | | |
| Easy to Extend | | |
| Ability to Scale | | |
= Native capabilities
= Requires additional solution or partner integrations
= Weak or no functionality
Implementation Considerations
SAP relies heavily on partners to get customers live on its software. This means the success of your project hinges on the experience and quality of the partner you choose. It's a risky proposition — the partner may follow best practices and have built reliable, proven integrations with other applications, or it may hack together solutions and struggle to deliver the capabilities you need. It may have little experience with the system you choose, or it may know it inside and out. Significant due diligence is required by your team.
Let's take a closer look at implementation practices for these three systems:
S/4HANA Cloud, Public Edition: SAP has an in-house professional services team for S/4HANA, but it still relies heavily on partners to implement the system, especially with midsize customers. While most S/HANA Cloud Public implementations take six to 12 months, the company does offer shorter paths to deployment through go-to-market strategies like Grow With SAP.

The small number of customers live on the public cloud version of S/4HANA mean partners have limited experience implementing it, increasing the chances of a longer, challenging implementation.

Business One: Partners are solely responsible for the entire customer lifecycle, including implementation. Implementation costs are based on time and materials, with no set upfront price, which can drive up costs.

ByDesign: Even before the recent news, ByDesign was exclusively implemented by a network of 200-plus partners. Given the small number of customers, many partners lack experience with ByDesign, which could lead to difficult implementations. The pool of partners for this product was already small and will presumably shrink as buyers focus on other products with more of a future. As with Business One, these projects are based on time and materials.
NetSuite takes a much different approach. It has a large, internal professional services organisation with individuals dedicated to various verticals and business sizes. This makes these experts uniquely qualified to lead projects, as customers benefit from their deep industry experience and knowledge. Professional services employees are also entirely focused on one ERP product.
NetSuite's SuiteSuccess implementation methodology is another key differentiator, giving most customers at least 80% of the functionality they need at a fixed, upfront cost. With SuiteSuccess, businesses get best-practice workflows, dashboards, and KPIs specific to certain industries and roles. This minimises customisations so customers can benefit from a faster time-to-value, going live in as little as 100 days. It's a proven model with thousands of implementations.
Note that SuiteSuccess leading practices and preconfigured assets are available to NetSuite partners, as well. NetSuite partners are well-educated on the system and in direct and regular contact with the vendor. That, along with the expertise they may bring in niche industries and certain geographies, set customers up for successful projects.
Pet pharmacy HealthyPets endured a long, difficult implementation with SAP and found the NetSuite approach a refreshing change of pace. NetSuite Advanced Customer Support (ACS) was instrumental in helping HealthyPets integrate other systems with NetSuite.
Partner Ecosystems
Since SAP is so dependent on partners, it has a vast network of them. Overall, the software provider has more than 24,000 partners, though only a subset of those work on S/4HANA Cloud, Public Edition; Business One; or ByDesign. This could be seen as one of the vendor's strengths.
NetSuite has a number of different partner programs that offer varied services. Solution Providers sell and implement the software, while Alliance Partners implement the solution, develop applications on the NetSuite platform, and help customers get more out of the system. NetSuite also has programs that cater to accounting firms, venture capital and private equity firms, entrepreneurs from underrepresented communities, and trade associations.
Support Services
Just as with implementations, businesses that use SAP systems will lean heavily on thousands of partners for support. Partners exclusively handle support for Business One and Business ByDesign. SAP has not yet specified who will provide support for S/4HANA Cloud, Public Edition.
This represents a big risk because it's difficult to predict the quality of support you will receive from partners. Some partners may not have a dedicated support team, or they may only have agents available 9 a.m. to 5 p.m. local time. Others will have experienced teams and longer hours. Because customers are spread across thousands of partners, none has the same number of businesses to learn from as the vendor would. These groups often support multiple SAP products and even software from other providers. And even if they are well-versed in your ERP system, are they familiar with other products you may add, like SuccessFactors or Analytics Cloud?
There is no such uncertainty with NetSuite because it offers direct vendor support whether you implement with a partner or NetSuite professional services. NetSuite employs more than 1,000 people in support roles and has live agents available 24/7, with customers able to choose from three different levels of support to match their needs. Additionally, every customer, regardless of size and including those who use a partner, receives a dedicated account manager.
NetSuite vs. SAP Pricing
Customers pay for NetSuite based on a monthly per-user fee and the modules and functionality they use. The minimum contract length is one year.
SAP S/4HANA Cloud, Public Edition pricing is also based on the number of users, typically requiring a minimum number of users in all contracts. ByDesign follows a similar per-user model, adding a monthly charge for each additional country. Business One customers buy a per-user perpetual licence for its on-premises system or pay a monthly fee per user for the cloud version. Complementary SAP products covered here will require separate licences.
Note that the total cost of SAP implementations is often unpredictable since partners may have to complete many integrations, configurations, and customisations. The same applies for any other applications you might need.
Why You Should Choose NetSuite Over SAP
If your business recognises the value of a true cloud, vendor-managed ERP system, NetSuite ERP is the clear choice over SAP. It eliminates the need for an IT staff or consultants to handle upgrades and patches, and employees will appreciate a system built to run on the web from Day 1. No SAP solutions offer the same depth of functionality along with the benefits of a SaaS system.
SAP cannot match the integration-free suite of modules available to NetSuite customers, either. While SAP has a robust catalogue of applications, many will not integrate well with your ERP system because they were not built on the same platform, as NetSuite modules are. That can make it difficult to realise one of the fundamental value propositions of ERP: All your data is in one place for easy reference and reporting.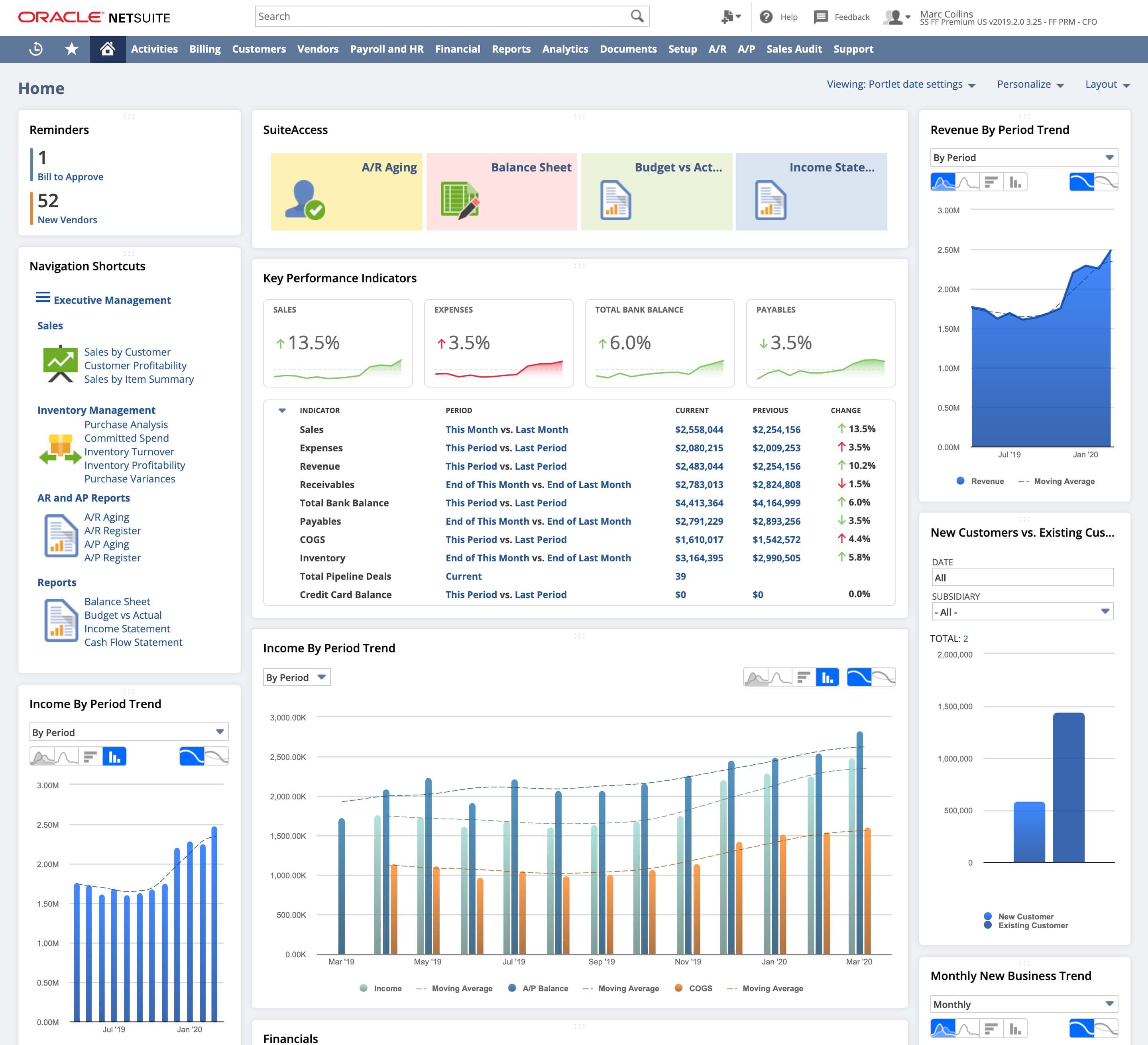 SAP's reliance on partners of varying quality is another risk you should evaluate thoroughly. NetSuite has invested heavily in internal resources that set you up for success and help you get the most out of the platform, from presales through implementation and support. And NetSuite partners receive regular education on NetSuite's latest offerings and ample vendor resources to assist their customers. With NetSuite, you'll work with proven, experienced product experts invested in your long-term success instead of hoping you draw the right straw with an SAP partner.
Finally, consider the stability NetSuite offers. The company has only ever offered one product that has never been scaled back or replaced in its 25-plus years of existence. Choosing SAP comes with the inherent risk that your product will eventually become obsolete. This is true even for its newest software, S/4HANA — SAP announced it will be maintained through 2040, but what happens after that?
Selecting an ERP system can mark a turning point for a business. Make the right choice, and your company will become more efficient, organised, and profitable, helping you reach the next stage that much faster. The wrong decision often translates to significant amounts of time and money wasted and stalled growth. It may mean starting the whole process anew with another solution, making the impact that much worse.
This is why it's crucial to evaluate and select a system based on its ability to support your business over the long term. The cheapest or best solution today is not always the same as the system that will be an asset to your organisation and the vendor that will act as a partner in your continued evolution. NetSuite's ability to scale with your organisation, without the headaches many other systems would cause, is unmatched.
NetSuite vs. SAP FAQs
What is better, SAP or NetSuite?
While beauty is in the eye of the beholder, NetSuite is entirely focused on one ERP system, while SAP has three distinct solutions for midsize companies. SAP also cannot match NetSuite's long history in the cloud and its suite of modules that do not require integrations. Another key difference is that SAP relies on partners for sales, implementation, and support without direct involvement from the software provider, while NetSuite is closely involved in each of those steps, even if you use a partner.
Is NetSuite the same as SAP?
SAP and NetSuite are two different software companies. NetSuite is a division of Oracle dedicated to developing SaaS ERP for midsize companies, while SAP is a large, publicly traded company selling a variety of business software. Although both businesses develop ERP software, their offerings differ substantially in architecture and capabilities.
What is the SAP equivalent of NetSuite?
SAP has three products that compete with NetSuite: S/4HANA Cloud, Public Edition; Business One; and Business ByDesign. ByDesign is the most similar to NetSuite in terms of system architecture and design because it is a SaaS product, but SAP is now phasing out this solution. None of SAP's products can match the combination of true cloud and deep functionality that NetSuite offers, so there is no real equivalent.
Is NetSuite more user-friendly than SAP?
NetSuite is designed to empower nontechnical employees to not only use the system but adjust it to their preferences. Reporting, configuration, and workflow creation are easier in NetSuite than SAP, helping customers focus on running their business. Some SAP solutions have appealing user interfaces, but decision-makers should not overlook their other shortcomings.
What are the disadvantages of SAP Business One?
SAP Business One lacks native financial consolidation and requires customers with multiple subsidiaries to purchase multiple instances to manage each business unit. Business One also has limited demand planning capabilities and no WMS application. In addition, many customers need add-on software to get the reports they need, and those require partner-led integrations with the Business One ERP system. Finally, the cloud edition of Business One is hosted cloud and not a vendor-managed cloud system that receives automatic upgrades and enhancements.
What is better than SAP Business One?
NetSuite is a great alternative to SAP Business One. The system comes with robust capabilities out of the box, and you can easily add modules with additional features as needs arise. Every company running on NetSuite is on the same version of the software, and the system is built to scale as your company grows.
Which is better, SAP or Oracle?
Oracle and SAP are two leaders in the enterprise software space. They both make widely used business applications and other technology that some of the best-known companies in the world rely on. However, Oracle databases are far more popular than those of SAP, and it's seeing impressive growth with OCI.