Supercharge sales performance
What is NetSuite Sales Force Automation?
NetSuite CRM sales force automation (SFA) capabilities power your sales organisation with unified processes — from opportunity, upsell and quote management to sales forecasting, order management, fulfilment and commission payments. NetSuite's SFA solution gives your sales team unprecedented visibility into every aspect of the customer relationship, including support cases and back-office information such as contracts, inventory and order history. With real-time dashboards, sales representatives and managers gain better insights to sell, upsell and properly set customer expectations.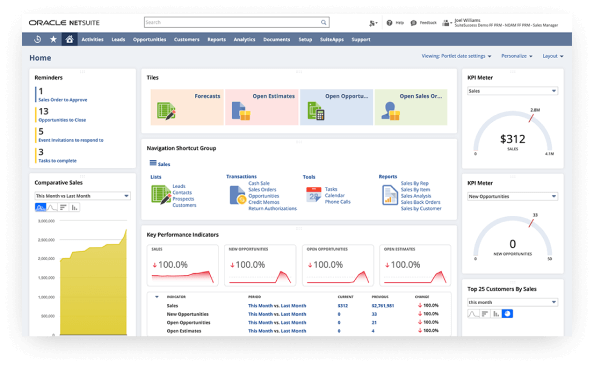 ---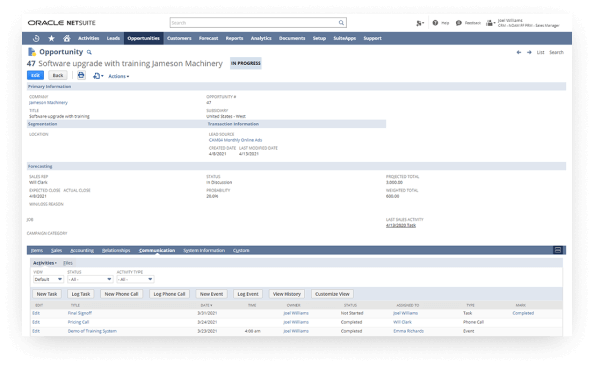 Improve Collaboration and Efficiency
A central customer database amplifies employee collaboration by breaking down the silos that divide sales, accounting, credit, purchasing and other back-office functions. Improve efficiency by eliminating multiple sources of data — and the redundant processes needed to support them.
---
NetSuite Sales Force Automation Features
---
Equip sales teams with real-time access to prospect, customer, opportunity and order records, and build reliability, predictability and trust into the sales process.
Opportunity Management
Standardise best practises for winning deals by linking your sales process with the customer buying process. Manage opportunities across status, revenue, key contacts, notes and related documents. Provide sales managers with a complete view of all leads and opportunities in the pipeline.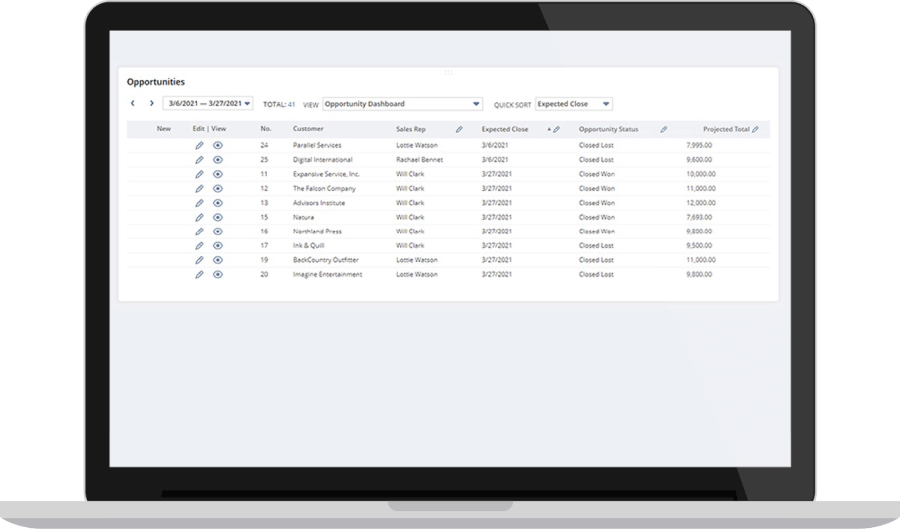 Quote Management
Streamline the quote and order process with a fully integrated quote-to-order, cash and fulfilment solution. Easily convert quotes into approved sales orders and automatically process them via links to back-end financials. Provide recommendations based on intelligent upsell management and buying-pattern insights.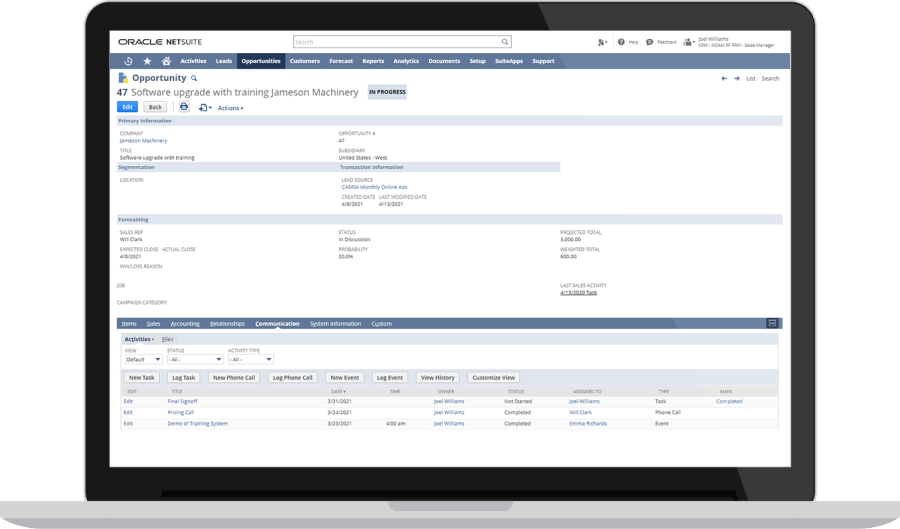 Sales Forecasting
Make sales more predictable with real-time forecasting and a system of checks and balances that triangulates the sales forecast. Allow users to categorise transaction forecast types to appropriately identify opportunities, quotes and estimates. Utilise probability forecasting with adjustable weighted measurement of pending opportunities, quotes and orders. Analyse actual sales and recurring revenue projections in forecasts and variances.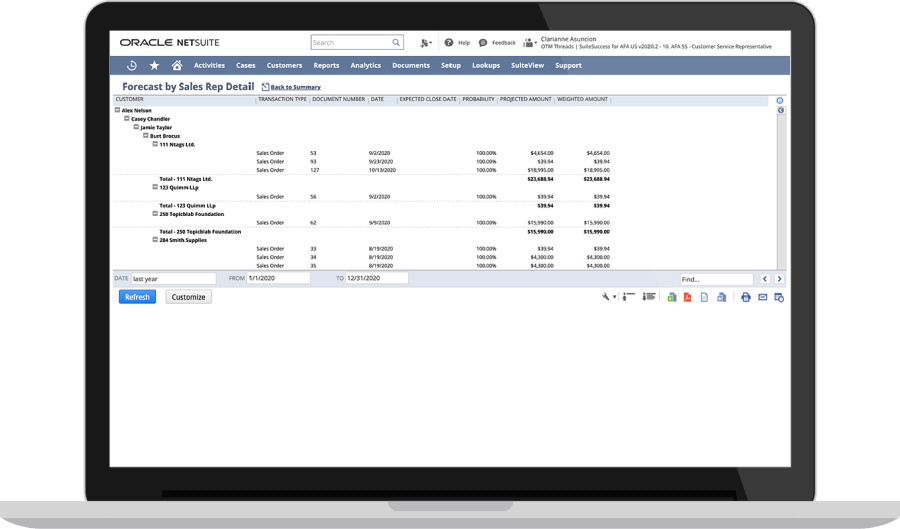 Incentive Compensation Management
Design and manage complex multitiered commission plans based on multiple criteria, such as quota, quantity sold, service item, product profitability and even incentives, including one-time "spiffs." Visibility into sales compensation calculations ensures the sales team spends more time selling and less time double-checking their commissions. Split commissions among team members on the same transaction, and easily calculate indirect commissions that are due to managers and executives.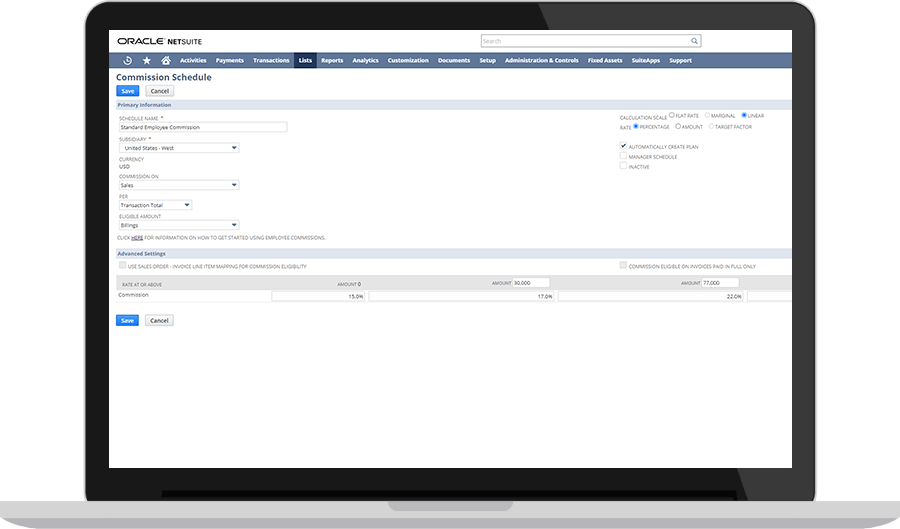 Contract Renewals
Automate contract renewals through a flexible and powerful process that lets you track renewable assets and maximise renewal revenue. Gain real-time reporting and visibility into your installed base and renewal pipeline, as well as the status of renewal revenue, upsells and returns. Simplify revenue recognition by having the contract renewal and billing follow one process, while revenue recognition can follow a different process, all from within NetSuite.
Intelligent Item Recommendations
Leverage data on customer purchase history and buying patterns to increase average order size and order frequency. NetSuite Intelligent Item Recommendations uses AI to provide personalised product recommendations. Recommendations are configurable to prioritise aggregate buying behavior such as "people who bought X also bought Y," recently added items, items the shopper has likely not seen before, and items similar to one another. These recommendations are presented when entering a sales order in NetSuite and also on a customer facing NetSuite ecommerce solution.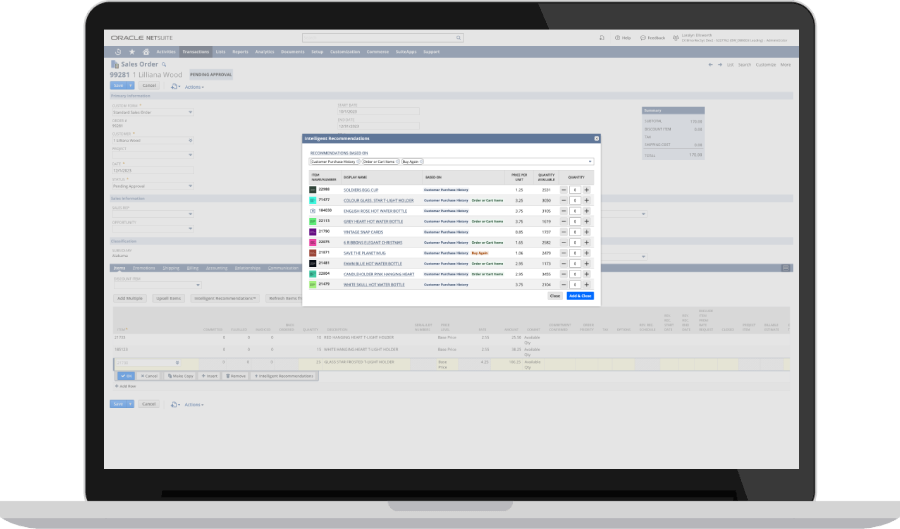 NetSuite CRM is at the core of our sales and marketing operations. From capturing leads to tracking opportunities and activities, it significantly improves our ability to serve our customers.
NetSuite Sales Force Automation Benefits
---
Challenges NetSuite Sales Force Automation Solves
---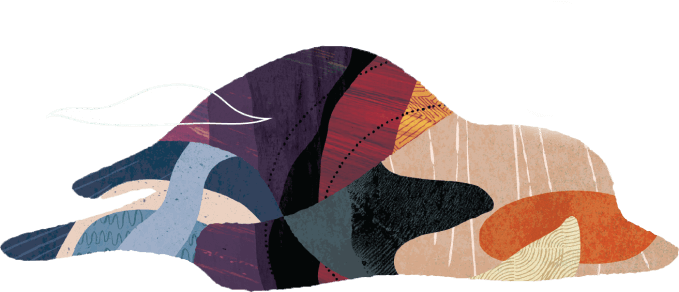 How Much Does NetSuite Sales Force Automation Cost?
Companies of every size, from pre-revenue startups to fast-growing businesses, have made the move to NetSuite. Looking for a better way to run your business but wondering about the cost?
Users subscribe to NetSuite for an annual licence fee. Your licence is made up of three main components: core platform, optional modules and the number of users. There is also a one-time implementation fee for initial setup. As your business grows, you can easily activate new modules and add users — that's the beauty of cloud software.
Sales force automation capabilities are part of NetSuite CRM, which is included with the NetSuite platform. Every employee that accesses NetSuite CRM needs their own user licence.