Turn your general ledger into a dynamic business asset
What is NetSuite General Ledger?
NetSuite general ledger (GL) automates core accounting processes and provides a flexible structure that adapts to the needs of any organisation. Customise account types, transactions and reporting segments to meet unique business requirements. Reduce reliance on manual data entry with real-time bank integration, rules-based transaction matching and auto-posting of journal entries. NetSuite gives finance and accounting professionals the tools they need to maintain accurate financial records, produce detailed reports and close the books on time.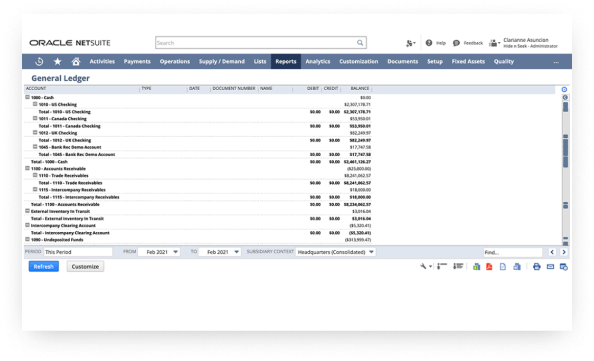 ---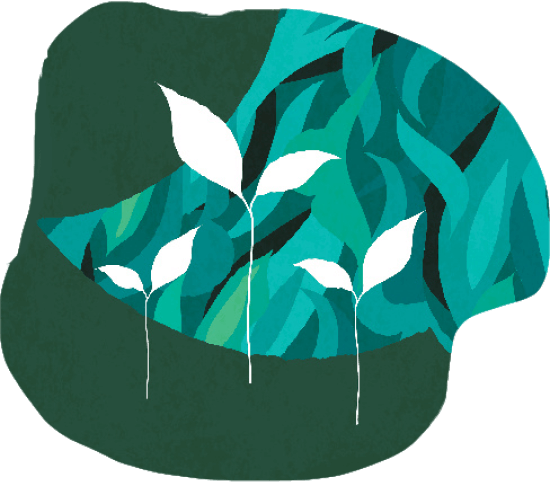 Trust Your Data
Say goodbye to broken formulas in spreadsheets. With all your finances in one place, you get accurate figures and effortless reconciliation.
---
Static to Dynamic
Your general ledger should support the unique structure and requirements of your business. NetSuite lets you control how your GL operates with custom workflows, transaction types and more.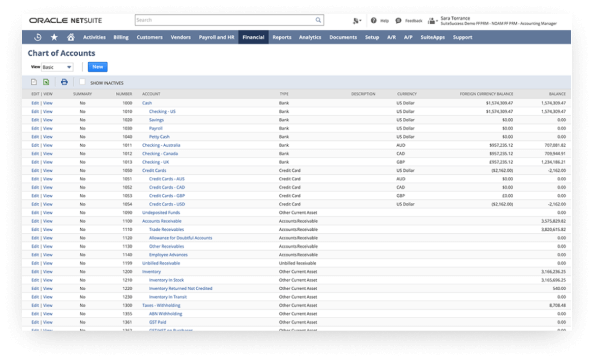 ---
NetSuite General Ledger Features
The general ledger is the core of every accounting system. It must be dynamic, adaptable and scalable. NetSuite general ledger gives companies the flexibility, insights and control they need to keep up with fast-changing business requirements.
Automation
Eliminate manual journal entries. Adding custom GL impact lines to transactions across single or multiple accounting books reduces the time and effort required for account reconciliation, closes and audits. Automated journal-entry approval workflows verify criteria, like threshold amount and approval limits, before the journal is posted. NetSuite GL automates amortisation and depreciation schedules, P&L allocations and other routine calculations.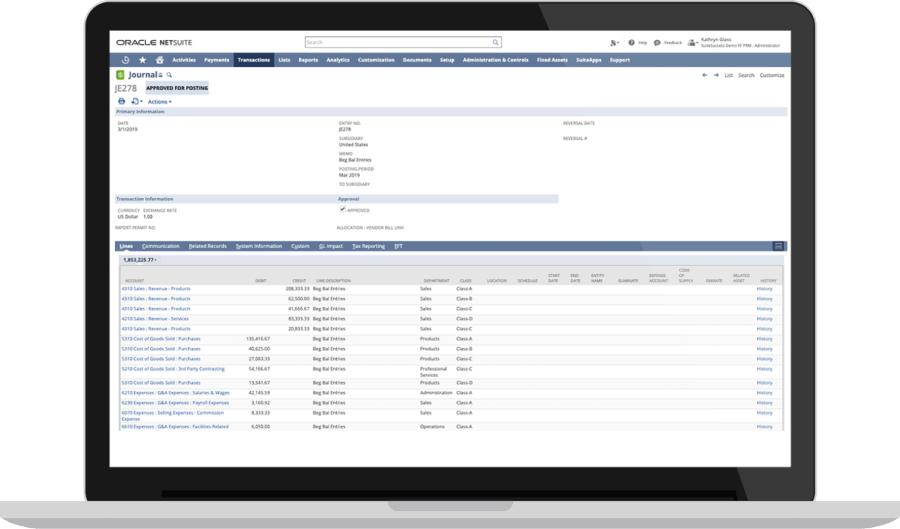 Chart of Accounts
Say goodbye to complex tracking codes and hello to a simplified chart of accounts structure that organises financial and statistical data for simplified reporting.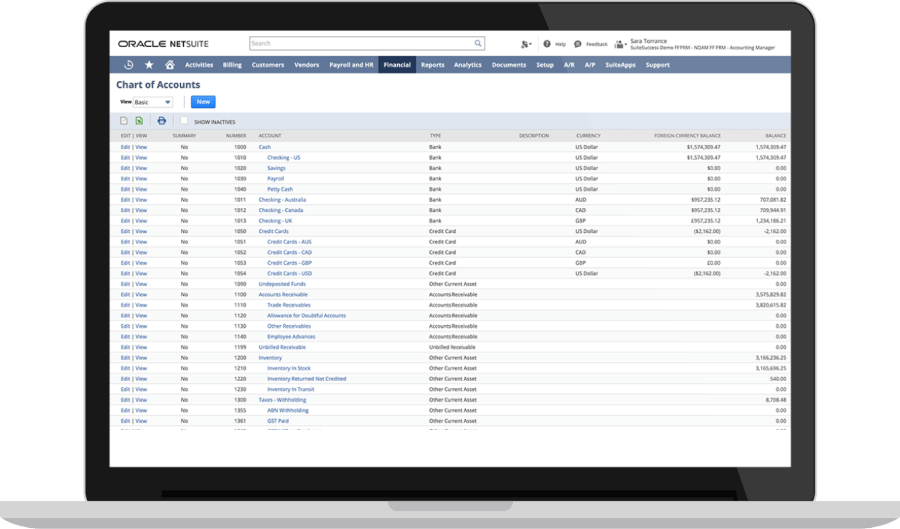 Segments
Define unlimited custom GL segments, such as profit center, fund, program, product line and more, in addition to standard subsidiary, class, department and location segments. Improve accuracy and save time by ensuring adherence to double-entry accounting principles and balancing data across all segment combinations.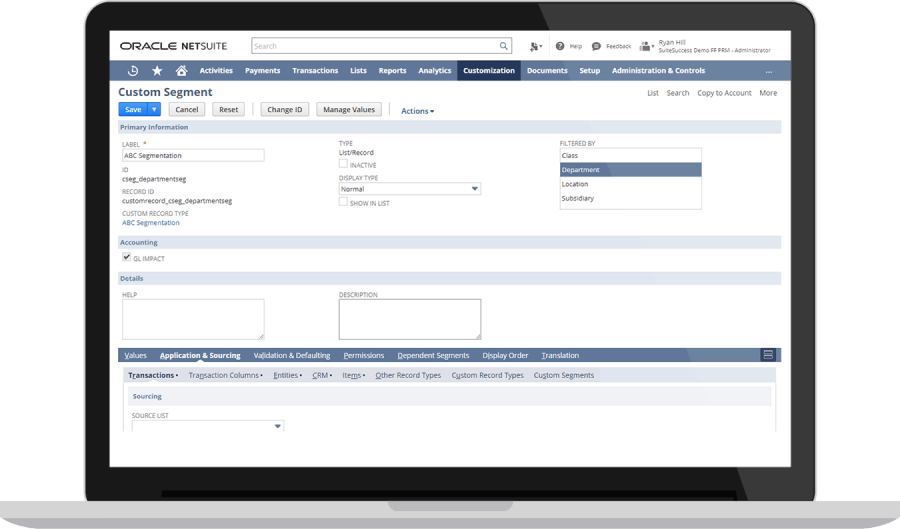 Shared Transactions
Distribute shared transactions across multiple subsidiaries, departments or location segments based on percentage or amount-based predefined rules. Improve accuracy and save time with automated journal entries and reusable distribution templates.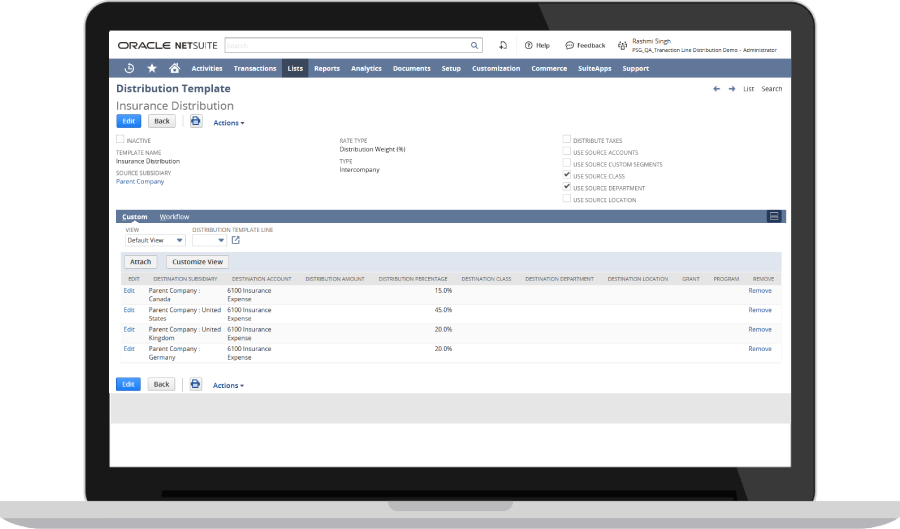 Budget Tracking
Gain the ability to track — in real-time — revenue and expenses against predefined budgets created with NetSuite Planning and Budgeting or imported as .csv files.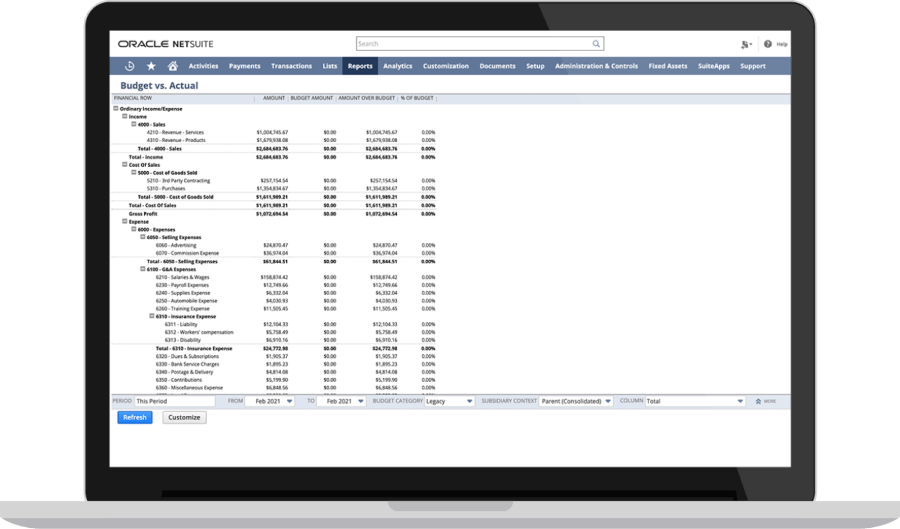 Banking Integration
Get cash flow insights at a glance. Connect to thousands of financial institutions around the world, automatically import bank and credit card data into NetSuite and reconcile statements with general ledger accounts. An intelligent rules engine compares bank data with existing transactions, automatically reconciling matching entries and flagging exceptions so they can be addressed.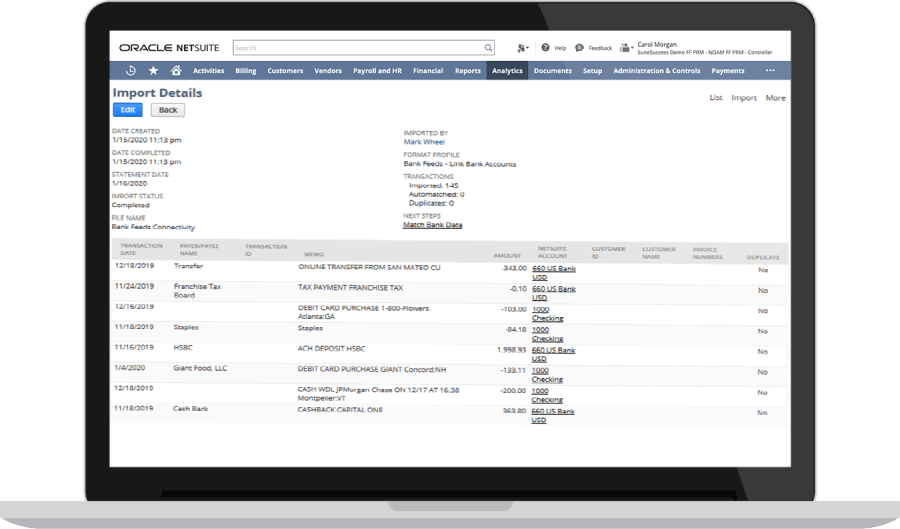 Multiple Books
Eliminate data entry replication and reduce the need for error-prone manual adjustments to your accounting and reporting processes with NetSuite multi-book accounting capabilities. Managing books aligned with various accounting standards is simpler with prebuilt mapping capabilities linking primary and secondary charts of accounts and book-specific functional currencies. The NetSuite multi-book engine records all book-specific activity based on a single business transaction from the general ledger, including revenue recognition, expense amortisation, depreciation, P&L allocations and more.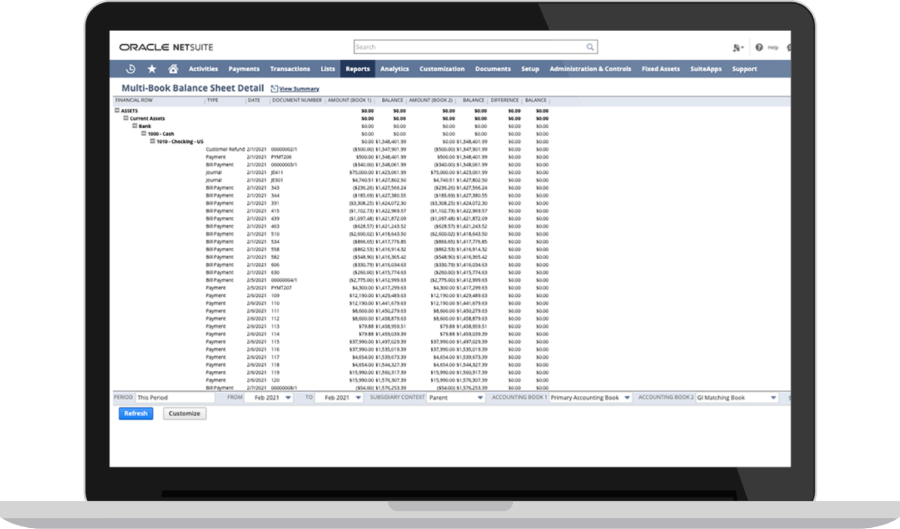 Multiple Currencies & Tax Structures
Maintain accurate tax records, with the correct details in the right currencies, wherever your customers and partners do business. Record transactions in both the local currency and your company's base currency — simultaneously. Automatically manage currency conversions using up-to-date exchange rates, saving time and minimising errors. NetSuite eases compliance with local and international tax rules, including income, VAT and other sales and use levies.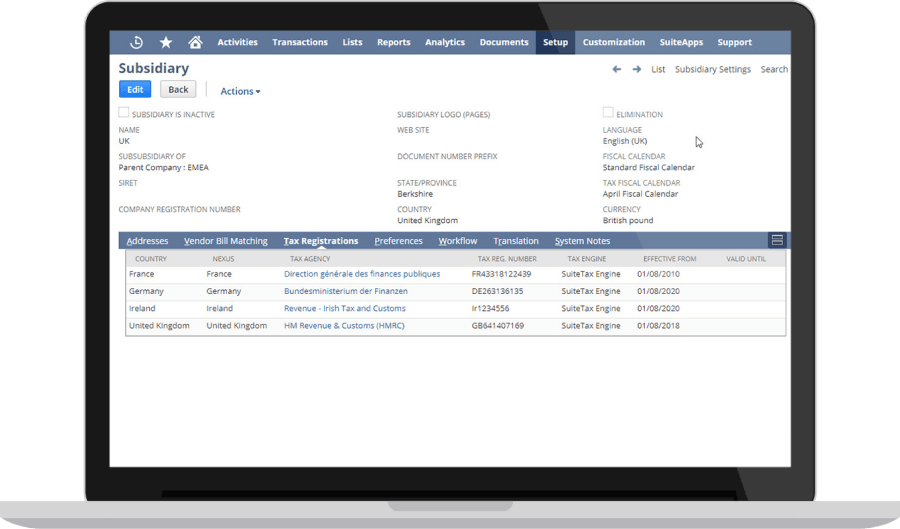 Reporting
Custom reporting segments allow multidimensional analysis of financial and operational data. Automatically consolidate subsidiary financials and create reports under multiple accounting standards. Schedule reports to be generated and emailed daily, weekly or monthly.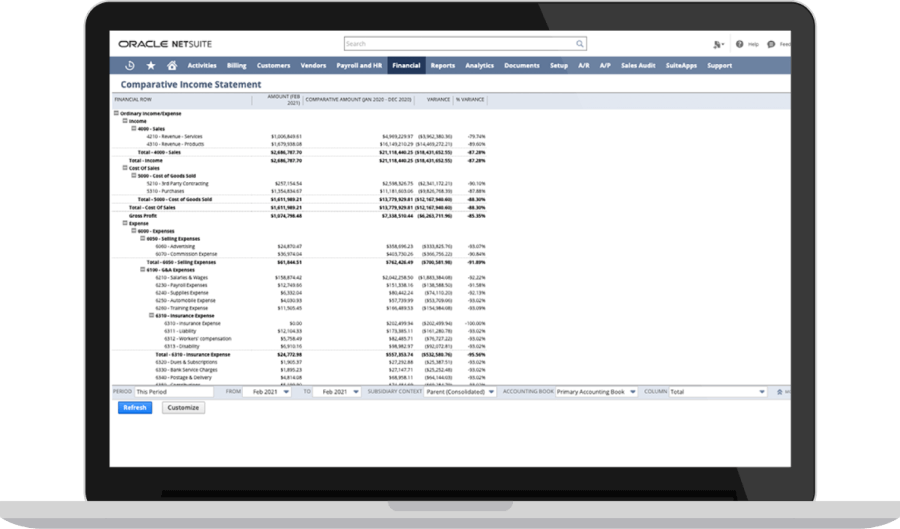 NetSuite gives us the ability to integrate all our systems, throughout the world, to give us accurate and up-to-date financial numbers that I need to really make the right decisions for my business.
NetSuite General Ledger Benefits
---
See How NetSuite Can Help You With Your Role
---
Challenges NetSuite General Ledger Solves
---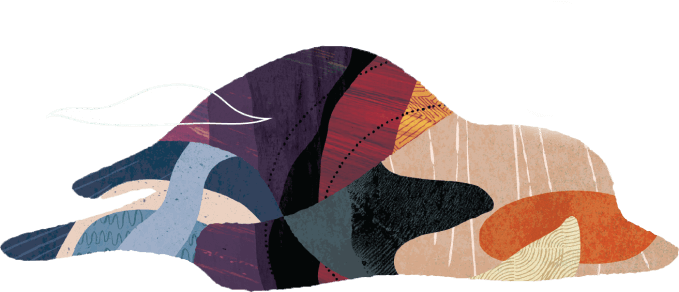 How Much Does NetSuite General Ledger Cost?
Companies of every size, from pre-revenue startups to fast-growing businesses, have made the move to NetSuite. Looking for a better way to run your business but wondering about the cost?
Users subscribe to NetSuite for an annual licence fee. Your licence is made up of three main components: core platform, optional modules and the number of users. There is also a one-time implementation fee for the initial set up. As your business grows, you can easily activate new modules and add users — that's the beauty of cloud software.
General ledger capabilities are included with the NetSuite platform licence.