This article is part of a Grow Wire Guide on how to get VC funding. Download the full Guide as an e-book.
Venture capital, or VC for short, is a useful and powerful financing method, but it's not well-suited for every business. VC is geared toward companies that are designed to grow quickly and have high startup costs. To give your business the best chance of scoring venture capital funding, you need a disruptive idea that is ideally in an industry VCs tend to invest in heavily. It also helps to have an impressive management team.
This article will help you define if your company has the right elements to be considered for VC funding. By evaluating your business as well as the industry in which you operate, you can determine if VC is the best financing option for you.
What kind of companies score venture capital funding?
High-growth, industry-disrupting companies
Venture capital financing focuses on companies that have the potential to grow quickly and disrupt a particular market through product innovation, with an end goal of a successful IPO or acquisition.
"Disruptive innovation" is a major buzzword. It's "the process by which a smaller company with limited resources is able to launch a product or service that displaces established competitors," Columbia Business School researchers Dana Kanze and Sheena S. Iyengar wrote in the Harvard Business Review.
Examples of industry-disrupting companies include Airbnb in the hotel industry and Uber in the transportation industry.
Fun fact: Using the word "disrupt" in connection with a business idea seems to influence investors. Kanze and Iyengar conducted an informal study which found that startups looking to "disrupt" received 1.7 times more funding, on average, than startups that were looking to "build."
CNBC's list of the top 50 disruptors for 2020 – including JAPAC startup darlings like Coupang – gives you a good idea of the sort of high-growth, industry-shifting business models that entice VCs.
Companies with high startup costs
VC is well-suited for early-stage companies with substantial startup costs that need funds to grow operations and scale the business. Many small businesses–like mum-and-dad businesses, or those running out of the proverbial garage with intentions to stay small–can often start with just a few thousand dollars. Venture capital, however, is intended for companies that need hundreds of thousands or millions of dollars to get off the ground.
For reference, the median size of seed-round deals in Asia was $1 million in 2020, according to the KPMG's Venture Pulse Report. See the full breakdown by deal size and stage below.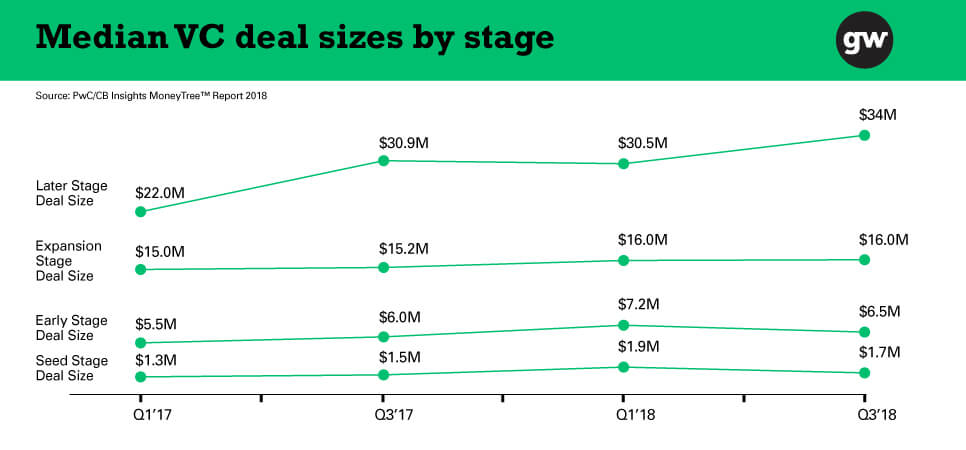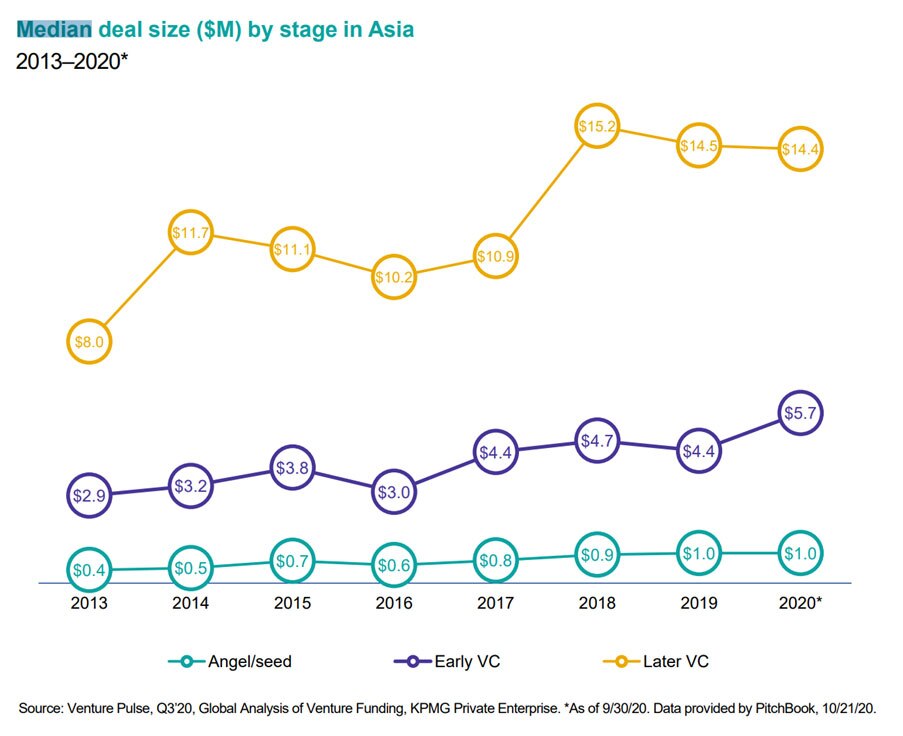 Venture capital is often the ideal financing source for companies that are capital-intensive, or have large upfront operational costs but not the collateral to secure funding from traditional sources like banks. VC fills a void in the investing market by offering funds for many capital-intensive industries such as software, telecommunications, automotive, media or consumer products.
Which industries receive the most venture capital funding?
In venture capital, not all industries are equal.
"The myth is that VC invests in good people and good ideas," funding expert Bob Zider wrote in a 1998 article for the Harvard Business Review. "The reality is that they invest in good industries."
Venture capital funds in JAPAC have increased their focus on HealthTech and EdTech companies of late, while startups focusing on ecommerce, digital enablement and fintech are expected to see continued growth.
A large portion of VC funding is directed at specific industries, but that doesn't mean you should abandon ship if your company doesn't belong to one of them. You can still get venture capital funding. However, it's important to know what you're up against.
How baked does my idea or business have to be?
It's very rare to get a VC excited on a pitch deck alone. In most cases, the VC wants to see initial progress, such as a founding team and an MVP. And the farther along, the better.
Whenever possible, come to the table with a few large customers, testimonials and a working prototype. Tangible progress will go a long way in establishing trust and interest from the VC community.
You should also evaluate your business idea, model and team with questions that include:
Is your product different from any other on the market?
Does it serve a unique need within a large, untapped customer segment?
Can your business model scale, growing larger to support an increase in load, be it customers, transactions or revenue?
Is your management team uniquely positioned to understand the customer pinch point and capable of spurring company growth?
If you answered "yes" to each of the questions above, then it's likely your company will be attractive to VCs.
Australian graphic design startup Canva fit the bill described above when it secured VC funding.
Canva sells software that allows people to design products like social media graphics, websites and presentation slides without any formal graphic design training – this was a departure from other software products that required lots of formal training to use effectively.
This appeals to a large group of businesses and individuals that don't have the resources to hire a full-time graphic designer but still need to have high-quality graphics – unsurprisingly the business has grown to more than 30 million active users around the world. As a software business with no physical inventory to sell, Canva is a highly scalable business that can continue to acquire more customers and grow the business with a minimal footprint and maximum confidence.
How important are my company's founders?
Very. VCs look closely at company management in regard to their skill set, past experiences and even where they went to school.
The management team
In the research study "How Do Venture Capitalists Make Decisions?", researchers from universities including Harvard and Stanford surveyed over 680 venture capital firms to better understand their decision-making processes.
They found that a company's management was the number-one factor VCs considered when deciding whether to invest.
"The management team was mentioned most frequently both as an important factor (by 95% of the VC firms) and as the most important factor (by 47% of the VCs)," the study states.

Some elements of the management team seem to be more important than others: The study found that VCs judge a management team first on ability, followed closely by industry experience. Secondary factors include passion, entrepreneurial experience and teamwork.
Chris Sirisereepaph, partner at Singapore's Saison Capital, says his firm looks specifically at how well the founding team fits with the business model they are looking to employ.
"We call it the 'founder-business model fit'. If the founder has worked in a particular industry for close to a decade, they would have an unfair advantage in terms of their network and identifying opportunities," explains Chris.
Additionally, Chris advises founders that in the wake of the pandemic VCs are looking for founders that have capital-efficient business strategies and a clear roadmap for monetisation. Founders should run pilot tests to validate whether monetisation is possible.
Finding personalities that fit
Venture capitalists also tend to agree that while company founders' professional backgrounds experience impact they also assesses how founders will work together over time.
Hannah Yan Field from Australia's Tempus Partners has warned that weak cofounder relationships are something investors look at as they could be detrimental to the long-term health of the business.
"We look at how they interact, do they listen to each other and really hear each other out or are they competing for the spotlight and that says so much about a team and it's a massive red flag," she said.
The long-term nature of VC deals makes relationships important to Hannah and her partners, as they take board seats on portfolio companies and offer ongoing strategic guidance to every partner.
Venture capitalists also look for founders that are genuine in their goals and are willing to be flexible in their startup journey as they will likely have to take on a broad range of roles.
Hannah added, "don't craft and control your career path where you're limiting out other amazing, fulfiling career opportunities for the sake of getting to the end point."
🌱 The bottom line
Let's review: To receive venture capital funding …
Develop a disruptive idea, in a
hot industry, with
the best possible team.
Getting funded is more art than science, and not everyone who wants venture capital financing gets it. So give yourself an advantage against the competition. Develop scalable, disruptive businesses that can grow quickly, choose industries that VCs are keen to invest in, and build management teams that inspire investor confidence in the company's ability to succeed.