NetSuite announces NetSuite for Android
New Mobile App Empowers On-the-Go Professionals with Rich ERP Capabilities for Data Access and Business Control through Android Mobile Devices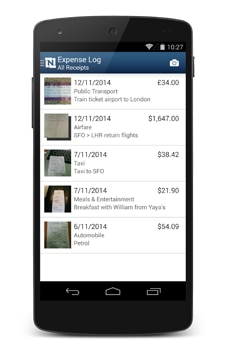 NETSUITE SUITECONNECT, LONDON—10 November 2014—NetSuite Inc. (NYSE: N), the industry's leading provider of cloud-based financials / ERP and omnichannel commerce software suites, today announced NetSuite for Android, the world's first ERP Android OS application delivering rich ERP capabilities for mobile users to conduct business on the go—from an airport, client site, coffee shop, home or anywhere their data plan can reach. Available as a free download soon on Google Play, NetSuite for Android is expected to address customer demand and the ever-growing need for business users to manage business processes that are powered by NetSuite—from ERP, CRM, to ecommerce—all via the Android app being developed by NetSuite. The initial release is expected to provide quick and easy time and expense management, including time entry and bulk uploads of multiple receipts captured as images on mobile devices. The mobile app is also expected to offer the ability to track time and expense offline, while not connected to the Internet.
NetSuite Founder and Chief Technology Officer Evan Goldberg demonstrated NetSuite for Android capabilities at SuiteConnect 2014 in London today, NetSuite's largest user-oriented event in the UK.
NetSuite cloud ERP users span a variety of industries including manufacturing, wholesale/distribution, software, services, and retail/ecommerce. NetSuite for Android can allow ERP users across this spectrum of industries to conduct business on the go. For example, a sales rep in the wholesale and distribution industry can get immediate access to inventory data while they're on the road, allowing them to tell a customer when the item will be delivered as the customer places the order. A field service technician in the manufacturing industry can look up a customer's previous orders, customer service calls and notes while on-site, reducing service time and improving customer satisfaction. A sales rep in the services industry can look up case history on the way to a client meeting, arriving prepared with all the necessary background information.
With mobile apps for both Android and iPhone, NetSuite is meeting customer demand for access to ERP capabilities over the world's two most popular mobile operating systems, which together commanded 96.4 percent of the market in Q2 2014, according to the analyst firm International Data Corp. (IDC)1. As NetSuite for Android capabilities are built out in conjunction with NetSuite for iPhone, users can have new flexibility in managing their business over their smartphone and mobile OS of choice, with capabilities for:
Home dashboard synchronisation. Access key performance indicator (KPI) metrics and scorecards, trend graphs, report snapshots and more.
Full record support. Create, edit, delete, and view key record types including leads, customers, sales orders, invoices, expense reports and more.
Business action support. Approve sales orders and expense reports, convert estimates, accept customer payments, bill sales orders and more.
Complete activity management. Manage calendars across list, week and month views, and view other calendars including those of fellow employees.
Record customisation support. All existing customizations including custom forms, fields and scripts are supported.
Complete time and expense management. Manage time tracking and expenses quickly and easily, including bulk uploads of multiple images of receipts captured on mobile devices.
Saved searches. Get all the results and drill down to the record level using any existing NetSuite Saved Search.
Expanded swipe action support. Map customer locations, initiate phone calls, respond to events, or quickly switch into Edit mode.
Localisation. Instantly adapts to specified NetSuite language settings and supports multiple currencies.
"Smartphones and tablets have become a critical extension of the office, enabling businesses to meet customer and market demand for data, speed, and functionality anyplace, anytime," said Malin Huffman, NetSuite Director of Product Management. "Our mobile apps for Android and iPhone put the power of NetSuite literally in the hands of on-the-go personnel over mobile operating systems that command over 95 percent of the smartphone market."
Availability: The initial release of the NetSuite for Android application is expected to be available for download on Google Play in December 2014. The full roll-out is expected to launch in early 2015.
Today, more than 20,000 companies and subsidiaries depend on NetSuite to run complex, mission-critical business processes globally in the cloud. Since its inception in 1998, NetSuite has established itself as the leading provider of enterprise-class cloud financials/ERP suites for divisions of large enterprises and mid-sized organisations seeking to upgrade their antiquated client/server ERP systems. NetSuite excels at streamlining business operations as demonstrated in a recent Gartner study naming NetSuite as the fastest growing financial management software vendor on a global basis. NetSuite continues its success in delivering the best cloud ERP/financials suites to businesses around the world, enabling them to lower IT costs significantly while increasing productivity, as the global adoption of the cloud is accelerating.
1 IDC, "Smartphone OS Market Share, Q2 2014," http://www.idc.com/prodserv/smartphone-os-market-share.jsp.
Follow NetSuite's Cloud blog, NetSuite's Facebook page and @NetSuiteAPAC Twitter handle for real-time updates.
For more information about NetSuite, please visit www.netsuite.com.au.
NOTE: NetSuite and the NetSuite logo are service marks of NetSuite Inc. Third-party trademarks mentioned are the property of their respective owners.
Android® is a trademark of Google Inc. Use of this trademark is subject to Google Permissions.
Apple, iOS, and iPhone are trademarks of Apple Inc., registered in the U.S. and other countries. App Store is a service mark of Apple Inc.
Cautionary Note Regarding Forward-Looking Statements
This press release contains forward-looking statements relating to expectations, plans, and prospects including expectations relating to the future availability of NetSuite's mobile App for Android. These forward-looking statements are based upon the current expectations and beliefs of NetSuite's management as of the date of this release, and are subject to certain risks and uncertainties that could cause actual results to differ materially from those described in the forward-looking statements including, without limitation, the risk that difficulties could be encountered in the development and release of the App. All forward-looking statements in this press release are based on information available to the Company as of the date hereof, and NetSuite disclaims any obligation to update these forward-looking statements.Customers who purchase our services should make sure that their decisions are based on features that are currently available. Please be advised that any unreleased services or features from NetSuite referenced in this press release or other public statements are not currently available and may not be delivered on time or at all.