Bronto makes sophisticated email marketing easy
Latest Release of the Bronto Marketing Platform Helps Marketers Grow Revenue, Save Time and Optimise Resources
SuiteConnect West—San Francisco—October 25, 2018—Oracle Bronto today announced a series of new innovations that help marketers grow revenue, save time and optimise resources. Building on 15 years of email marketing best practices, the latest release of the Bronto Marketing Platform helps customers accelerate email marketing success and optimise marketing resources, and enable alignment with new and emerging privacy and security requirements.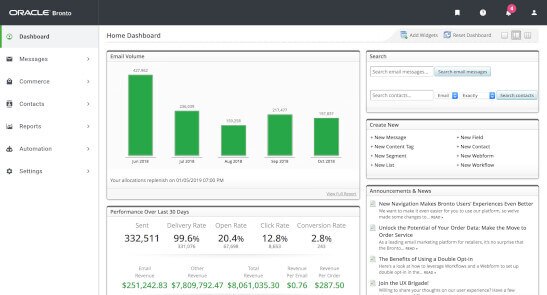 Technology has turned every customer interaction into a potential buy button, every customer into an influencer, every device into a wallet, and every email into a potential sale. For marketers, this creates massive opportunities— and challenges— at a time when organisations of all sizes must be even more transparent with customer data usage, while also using data intelligently at every possible turn in order to meet constantly changing customer expectations. To help marketers successfully navigate these changes and grow revenue, the latest release of the Bronto Marketing Platform delivers a host of new features and services as well as data and security enhancements.
"Rapidly changing technologies, buying behavior, business landscapes and regulatory pressures are forcing organisations of all sizes to rethink their marketing strategies," said George Moser, GM of Oracle Bronto. "Amidst all of this change, email remains the most powerful, profitable and popular marketing channel and that's why we continue to invest in making sophisticated email marketing easy. The latest release of the Bronto Marketing Platform builds on this commitment with new innovations to help our customers grow revenue, save time and optimise resources."
The latest updates to the Bronto Marketing Platform help marketers to:
Accelerate Email Marketing Success
JumpStart Program: Enables organisations to launch a comprehensive email marketing program in 30 days, aimed to rapidly grow subscription lists, engage shoppers and drive revenue. The enhanced Bronto Connectors decrease the time and expertise required to integrate Bronto with major ecommerce platforms including NetSuite and Shopify.
Path to Success: Our prescriptive, phased strategy and implementation methodology optimises the adoption of additional Bronto solutions to help enable a company's ability to grow, scale and adapt to change.
Self-Guided Learning Tools: Built-in platform tools empower marketers to get the assistance they need at any time and allow learning at a self-guided pace based on the needs of their business.
Optimise Marketing Resources
Intuitive User Experience: A redesign of the navigation enables marketers to quickly and easily create and monitor revenue-driving campaigns, saving time and resources.
Powerful Reporting: New comprehensive, real-time reports that can be automatically exported are built in to the Bronto platform, providing actionable insights that help marketers enhance the customer experience, grow revenue and better measure marketing success.
Time Zone Sending: An enhancement to message sending that allows marketers to send messages at the local time of each contact.
Features to Support Alignment with Privacy and Security Regulations and Standards
GDPR: Enhancements across the platform to support the ability to automate customer consent and unsubscribe preferences, consistently purge customer data from systems and easily access records for auditing purposes.
ISO: Bronto has successfully completed an independent audit of its processes for managing information security risks, including the protection of customer and consumer data, datacenter, and codebase, and the implementation of a product development lifecycle which includes processes designed to help ensure code is properly reviewed and passes quality assurance standards before being released to customers.
About Oracle Bronto
Oracle Bronto helps organisations of all sizes grow revenue, save time and optimise marketing resources. By delivering powerful and flexible email marketing solutions that work seamlessly with multiple ecommerce platforms, Bronto enables brands to maximises the value of customer data and deliver irresistible customer experiences. Bronto solutions incorporate best practices from 15 years of email marketing success and are used by the world's top brands, including Rebecca Minkoff, Lucky Brand, Theory, Brooks Running and Christopher & Banks.
For more information visit https://bronto.com/. You can also connect with us on the Bronto blog or on LinkedIn and Twitter.
About Oracle NetSuite
For more than 20 years, Oracle NetSuite has helped organisations grow, scale and adapt to change. NetSuite provides a suite of cloud-based applications, which includes financials / Enterprise Resource Planning (ERP), HR, professional services automation and omnichannel commerce, used by by more than customers in countries and dependent territories.
For more information, please visit http://www.netsuite.com.au.
Follow NetSuite's Cloud blog, Facebook page and @NetSuiteJAPAC Twitter handle for real-time updates.
About Oracle
The Oracle Cloud offers complete SaaS application suites for ERP, HCM and CX, plus best-in-class database Platform as a Service (PaaS) and Infrastructure as a Service (IaaS) from data centres throughout the Americas, Europe and Asia. For more information about Oracle (NYSE:ORCL), please visit us at oracle.com.
Trademarks
Oracle and Java are registered trademarks of Oracle and/or its affiliates.
Safe Harbor
The preceding is intended to outline our general product direction. It is intended for information purposes only, and may not be incorporated into any contract. It is not a commitment to deliver any material, code, or functionality, and should not be relied upon in making purchasing decisions. The development, release and timing of any features or functionality described for Oracle's products remains at the sole discretion of Oracle.