BARK selects NetSuite to help make dogs happy
NetSuite Helps Support Dog-Centric Company Through Rapid Growth and Expansion of Products, Services, and Distribution Channels
SuiteConnect West—San Francisco—October 25, 2018—BARK, the world's most dog-centric company, has selected Oracle NetSuite to help support its delivery of the best products, services, and content to make dogs and their people happy. With NetSuite, BARK has access to a more unified and flexible platform that can meet the needs of its rapid growth across subscription, retail, and ecommerce and with the development of new and unique experiences that satisfy each individual dog's distinct personality and preferences.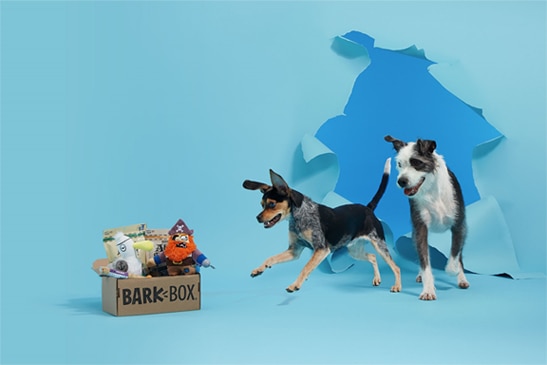 Founded in 2012 with BarkBox, a monthly subscription service of dog treats and toys, BARK has served more than 2 million dog homes nationwide. Building on its success to date, BARK is expanding its range of services and experiences, now creating more than 430 new, original products in-house every year and serving more than 600,000 active customers monthly. To support its rapid growth and new distribution channels, BARK selected NetSuite.
"As BARK continues to build upon the success of our subscription model and grow into new services and distribution channels, we need a technology platform that can streamline business processes and scale with us," said Joe Garafalo, Vice President of Finance, BARK. "With NetSuite integrating critical functions across our various businesses, we can focus on developing creative new ways to reach our customers and fulfilling our dog-first mission of fostering the health and happiness of dogs everywhere. We look forward to building on our strong foundation with NetSuite to help us ensure every dog reaches her full tail-wagging potential."
With NetSuite, BARK has been able to gain real-time insight into order management, purchasing, and inventory systems for its retail partner network, allowing it to make quicker, more informed decisions. With NetSuite now supporting the back-end, BARK can more seamlessly serve its customers via its retail partners, including Target, Urban Outfitters, Bluestone Lane, ecommerce site BarkShop.com, and its newest experiential venture, BarkPark, an outdoor clubhouse for dogs and their people in Nashville, TN.
"BARK is a great example of an innovative company that strives to create customer-first, or in this case dog-first, experiences," said Jason Maynard, Senior Vice President of Strategy and Marketing, Oracle NetSuite Global Business Unit. "With a growing range of products and services for the 60 million dog households across the U.S., BARK is serving a huge market and is well positioned to continue its strong growth trajectory. By helping the BARK team manage critical business functions, we are doing our part to help BARK promote a more dog-inclusive lifestyle for its customers."
About BARK
BARK is the world's most dog-centric company, devoted to making dogs happy with the best products, services and content. BARK's dog-obsessed team applies its unique, data-driven understanding of what makes each dog special to design playstyle-specific toys, wildly satisfying treats and wellness supplements, dog park chic accessories, and dog-first experiences that foster the health and happiness of dogs everywhere. BARK loyally serves dogs nationwide with monthly subscription services, BarkBox and Super Chewer; a curated ecommerce experience on BarkShop.com; and custom collections via its retail partner network. At BARK, we want to be the people our dogs think we are and promise to be their voice until every dog reaches its full tail-wagging potential. Sniff around at www.bark.co for more information.
About Oracle NetSuite
For more than 20 years, Oracle NetSuite has helped organisations grow, scale and adapt to change. NetSuite provides a suite of cloud-based applications, which includes financials / Enterprise Resource Planning (ERP), HR, professional services automation and omnichannel commerce, used by by more than customers in countries and dependent territories.
For more information, please visit http://www.netsuite.com.au.
Follow NetSuite's Cloud blog, Facebook page and @NetSuiteJAPAC Twitter handle for real-time updates.
About Oracle
The Oracle Cloud offers complete SaaS application suites for ERP, HCM and CX, plus best-in-class database Platform as a Service (PaaS) and Infrastructure as a Service (IaaS) from data centres throughout the Americas, Europe and Asia. For more information about Oracle (NYSE:ORCL), please visit us at oracle.com.
Trademarks
Oracle and Java are registered trademarks of Oracle and/or its affiliates.
Safe Harbor
The preceding is intended to outline our general product direction. It is intended for information purposes only, and may not be incorporated into any contract. It is not a commitment to deliver any material, code, or functionality, and should not be relied upon in making purchasing decisions. The development, release and timing of any features or functionality described for Oracle's products remains at the sole discretion of Oracle.