NetSuite announces NetSuite TribeHR mobile for iOS
New Mobile App Allows iPhone, iPad and iPod Touch Users to Access Leading HCM Platform for Engagement and Collaboration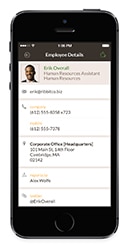 NETSUITE SUITEWORLD 2014, SAN JOSE, Calif.—May 14, 2014—NetSuite Inc. (NYSE: N), the industry's leading provider of cloud-based financials / ERP and omnichannel commerce software suites, today announced the availability of NetSuite TribeHR Mobile for iOS, the first mobile human capital management software app built for employees and managers first, bringing its engagement and collaboration tools to Apple iPhone, iPad and iPod Touch mobile devices. The mobile app meets fast-growing demand among organisations and the workforce at large for anywhere, anytime access to HR information and social business tools that promote greater Organisational engagement, productivity and morale, while accelerating the speed of business. Plus, the integration of NetSuite TribeHR's employee data with NetSuite's customer and financial data means any changes in the mobile app carry through to the NetSuite back-end for joint customers. The app is freely available to existing TribeHR employee, manager and administrator account users from the TribeHR website or the Apple AppStore.
Reflecting the intuitive ease of use and modern design aesthetic of the core NetSuite TribeHR solution, NetSuite TribeHR Mobile for iOS enables employees to quickly and easily engage with colleagues and the company. Its capabilities include mobile access to:
News Feed. Keep connected with your team with instant social connectivity, including notifications of co-workers' recognition, birthdays, service anniversaries, goals accomplished, time off and calendar events.
Searchable Employee Directory. More than just a name and a phone number, users can quickly and easily access employee information including photographs and reporting structure from their device.
Time Off Management. Users can request, approve and view time off requests from anywhere at any time. Additionally, a streamlined "call in sick" workflow reduces the frequency of unexplained employee absence.
Public Recognition. Enables employees to give, receive and comment on kudos directly from their iPhones, iPad or iPod Touch, making the feedback loop faster and more effective.
NetSuite TribeHR Mobile also leverages the native capabilities of the iPhone, iPad and iPod Touch, allowing users to take pictures and attach them to peer recognition and to leverage mobile device GPS data to illustrate an employee's location. Unlike mobile apps geared strictly for HR department professionals, NetSuite TribeHR Mobile delivers the unique social aspects of the TribeHR solution to the workforce at large to empower employees and managers through smartphones and tablets. A planned future release is expected to extend NetSuite TribeHR Mobile for Android devices.
"NetSuite TribeHR Mobile delivers key aspects of our industry-leading HR management and social collaboration tools to employees and managers anywhere they are," said Joseph Fung, Vice President of HCM Products. "It extends the powerful social business experience of NetSuite TribeHR to meet personnel expectations for managing their activities and interacting with colleagues from the palm of their hands."
The mobile app release coincides with a marked increase in the number of TribeHR users accessing their employer's main website and core TribeHR solution over mobile devices. With the mobile app, users gain a faster, more tailored experience that's friendly to limited data plans with a broad range of functionality to stay connected to the pulse of business and better manage their activities and coordinate with peers. NetSuite TribeHR Mobile extends the value proposition of TribeHR, an integrated cloud ERP and HCM software suite for small and mid-sized businesses. It gives SMBs a single cloud solution to run their core business operations as well as a rich, social HR software solution to manage employees. TribeHR is designed to inspire and motivate a modern workforce with mobile, social and cloud at the heart of the system, while delivering a full suite of HCM functionality required to recruit, manage and reward employees.
Today, more than 20,000 companies and subsidiaries depend on NetSuite to run complex, mission-critical business processes globally in the cloud. Since its inception in 1998, NetSuite has established itself as the leading provider of enterprise-class cloud financials/ERP suites for divisions of large enterprises and mid-sized organisations seeking to upgrade their antiquated client/server ERP systems. NetSuite excels at streamlining business operations as demonstrated in a recent Gartner study naming NetSuite as the fastest growing financial management software vendor on a global basis. NetSuite continues its success in delivering the best cloud ERP/financials suites to businesses around the world, enabling them to lower IT costs significantly while increasing productivity, as the global adoption of the cloud is accelerating.
Follow NetSuite's Cloud blog, NetSuite's Facebook page and @NetSuiteAPAC Twitter handle for real-time updates.
For more information about NetSuite, please visit www.netsuite.com.au.
NOTE: NetSuite and the NetSuite logo are registered service marks of NetSuite Inc. Third-party trademarks mentioned are the property of their respective owners.
Apple, iOS, iPad, iPod Touch, and iPhone are trademarks of Apple Inc., registered in the U.S. and other countries. App Store is a service mark of Apple Inc.