NetSuite reinvents procure-to-pay transforming global visibility and profitability
NETSUITE SUITEWORLD 2015, SAN JOSE, Calif.—May 6, 2015—NetSuite Inc. (NYSE: N), the industry's leading provider of cloud-based financials / ERP and omnichannel commerce software suites, today unveiled its transformative next-generation procure-to-pay capabilities built within NetSuite's cloud-based business management software suite. Designed for businesses across a wide range of industries to help transform business efficiency, simplify the user experience, improve control over spend visibility across the entire Organisation and drive profitability, the new procure-to-pay product release is expected to feature many 'firsts and onlys' in cloud-based procure-to-pay, including:
Built using NetSuite's SuiteCommerce platform, the new employee procure to pay portal is expected to be as easy to use as a B2C website, while purchasing employees access ERP procurement capabilities. NetSuite's commerce-ready procure-to-pay makes entering employee requisitions easier than ever before, delivering a superior B2C-like shopping experience with an intuitive, simplified purchasing flow and user interface allowing employees to make intelligent purchases at the right time, at the right cost.
Blanket purchase ordering, allowing employees to buy, receive and expense goods at their convenience over a fixed period of time following one single set of negotiations with a vendor, rather than having to repeat the same process again and again.
Flexible and customizable workflow, allowing busy business users to save time by establishing role-based and rule-based limits on purchases, for example, by setting minimum limits on purchases that require management approval or flagging specific suppliers for review based on past order history, credit rating or other factors, which can eliminate cumbersome and redundant negotiations.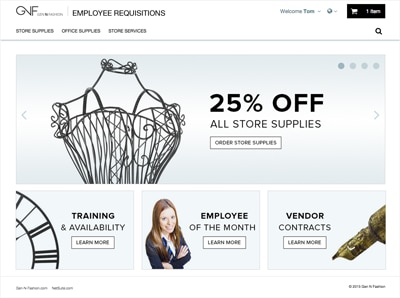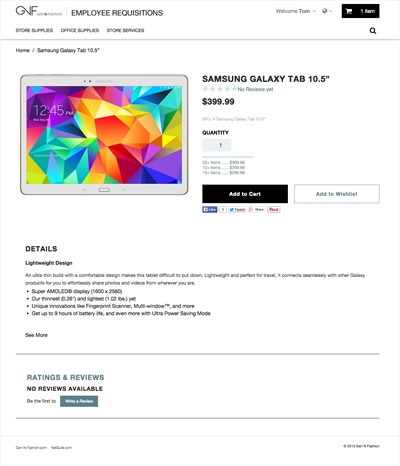 Procurement dashboards, providing real-time visibility into metrics across the Organisation, including purchase orders of direct materials and third-party logistics, each linked to NetSuite demand planning to improve purchasing not just at specific costs or quantities but also at the best time period, thereby optimising when to make a purchase and at what cost.
Self-service vendor Centre, allowing vendors to enter responses to quotes, view purchases, check the status of quotes and purchases, and monitor accounts payable reports and time tracking on extended projects.
Global vendor management, providing multi-currency, multi-language and multi-subsidiary capabilities with support for local accounting regulations and country-level financial and indirect tax reporting. NetSuite's procure-to-pay can provide businesses with unprecedented visibility into suppliers including global organisations with multiple subsidiaries at both the aggregate level and the subsidiary level with the entire purchasing history tracked in NetSuite's unified system. That visibility can allow businesses to monitor supplier balances and unpaid bills and set vendor credit limits by subsidiary, identify purchasing changes over time, and help ensure that the company is spending wisely.
NetSuite's procure-to-pay capabilities also provide a superior user experience, allowing organisations to make intelligent purchases, buying at the right time, at the right cost with an intuitive, simplified workflow and user interface.
"We are leapfrogging other procure-to-pay solutions and delivering future-proof capabilities by leveraging our omnichannel commerce platform to provide purchasing employees with a B2C-like consumer experience," said Evan Goldberg, NetSuite Founder and Chief Technology Officer. "NetSuite's cloud procure-to-pay empowers our customers with real-time spend management knowledge which they can then confidently use as the basis for making smarter purchasing decisions."
Suite Wins
Today, many companies are held back from realizing efficient, optimised and intelligent procurement because they use a mix of manual processes and antiquated on-premise point solutions or even cloud-based procurement point solutions. These systems create islands of purchasing data with little or no integration into the rest of the companies' business management software leaving them unable to control, streamline and optimise procure-to-pay processes, realise best business practices and enforce corporate buying policies and rules. These issues become magnified with increasing numbers of companies needing to efficiently and cost-effectively source goods and services on a worldwide basis.
NetSuite's procure-to-pay is a critical component of NetSuite's cloud business management software suite that can create efficiency and global visibility in the procure-to-pay process unmatched by other procure-to-pay software offerings, whether they are on-premise or cloud-based. NetSuite can seamlessly ties the procurement processes to mission-critical business processes including financials, inventory management, order management, demand planning, supply chain, financial consolidation, multi-currency and financial reporting. Because of its cloud suite approach, NetSuite's procure-to-pay can help businesses to:
Eliminate errors from manual processes and multiple point solutions.
Streamline business processes with one single unified cloud platform.
Gain real-time visibility into not only procure-to-pay business processes but also other relevant business processes such as inventory, order management, financial management and more—all within one single unified view.
Gain real-time visibility into finance performance with inventory profitability metrics and accounts payable aging—suite-based metrics that some point solutions cannot deliver.
Save time and drive business efficiency across the Organisation.
Deliver superior vendor and user experiences.
NetSuite's Goldberg demonstrated some of the new and upcoming capabilities of NetSuite's cloud procure-to-pay (including procurement dashboards and the ability to forecast future procurement needs months in advance) onstage today during his keynote address at SuiteWorld 2015, NetSuite's annual conference for customers, partners and industry thought leaders being held this week in San Jose, Calif.
Learn more about NetSuite's cloud procurement solution here.
Today, approximately 24,000 companies and subsidiaries depend on NetSuite to run complex, mission-critical business processes globally in the cloud. Since its inception in 1998, NetSuite has established itself as the leading provider of enterprise-class cloud ERP suites for divisions of large enterprises and mid-sized organisations seeking to upgrade their antiquated client/server ERP systems. NetSuite continues its success in delivering the best cloud ERP/financial suites to businesses around the world, enabling them to lower IT costs significantly while increasing productivity, as the global adoption of the cloud accelerates.
Follow NetSuite's Cloud blog, NetSuite's Facebook page and @NetSuiteAPAC Twitter handle for real-time updates.
For more information about NetSuite, please visit www.netsuite.com.au.
NOTE: NetSuite and the NetSuite logo are service marks of NetSuite Inc.