NetSuite Brainyard changes the way the tech industry shares insights and knowledge
New Benchmarking and Research Resource to Share the Blueprint for Business Growth
SuiteWorld 2019—LAS VEGAS, Nev.—April 3, 2019—Oracle NetSuite is launching a new business research and benchmarking service that changes the way the technology industry shares insights and knowledge. Unlike expensive services provided by research firms or traditional vendor models that are built on proprietary data, NetSuite Brainyard is a free resource that gives everyone across the technology ecosystem equal access to the research, data and practical advice needed to grow and run a business. Brainyard is available today at NetSuite.com/Brainyard.

"We're giving away the source code for business growth by providing unparalleled insights into every single critical business process," said Jason Maynard, SVP of Global Field Operations, Oracle NetSuite. "Companies tell us they want to benchmark their businesses, and we're going to help them do that with Brainyard. Research firms and other vendors charge for this kind of resource, but we consider it part of our commitment to customer and partner success. We're not just delivering bits with NetSuite: It's not just about software; it's about helping businesses grow."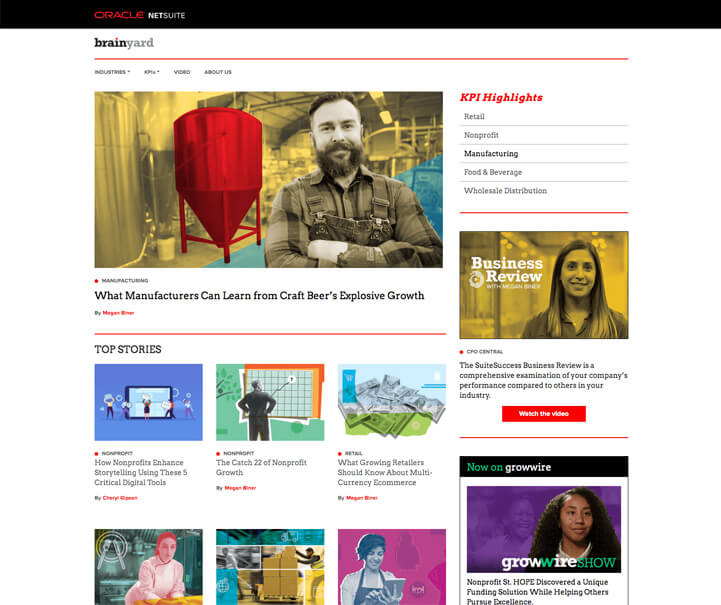 With the launch of Brainyard, NetSuite is taking the insights from its SuiteSuccess configurations, its value management team, its product management team and its solution consultants and making them quickly and easily accessible to everyone. Brainyard combines data, knowledge and expertise on growth and performance, including:
Business Research: Includes state-of-the-industry reports and other qualitative and quantitative survey-based research conducted across seven industries by 20 industry principles and nearly 500 subject matter experts from across the global NetSuite team.
Benchmark Data: Includes insights from 16,000 NetSuite customers and third-party business performance data from industry data provider FinListics, including detailed, industry-specific KPIs.
Performance Analysis and Advice: Practical advice/guidance on organisational improvement through how-to resources, best-practice briefings and KPI analysis. Customers can also receive a business review with their NetSuite account manager.
Over the past 20 years, NetSuite has worked with some of the fastest growing companies in the world to help them successfully grow, scale and adapt to change.
About Oracle NetSuite
For more than 20 years, Oracle NetSuite has helped organisations grow, scale and adapt to change. NetSuite provides a suite of cloud-based applications, which includes financials / Enterprise Resource Planning (ERP), HR, professional services automation and omnichannel commerce, used by by more than customers in countries and dependent territories.
For more information, please visit http://www.netsuite.com.au.
Follow NetSuite's Cloud blog, Facebook page and @NetSuiteJAPAC Twitter handle for real-time updates.
About Oracle
The Oracle Cloud offers complete SaaS application suites for ERP, HCM and CX, plus best-in-class database Platform as a Service (PaaS) and Infrastructure as a Service (IaaS) from data centres throughout the Americas, Europe and Asia. For more information about Oracle (NYSE:ORCL), please visit us at oracle.com.
Trademarks
Oracle and Java are registered trademarks of Oracle and/or its affiliates.
Safe Harbor
The preceding is intended to outline our general product direction. It is intended for information purposes only, and may not be incorporated into any contract. It is not a commitment to deliver any material, code, or functionality, and should not be relied upon in making purchasing decisions. The development, release and timing of any features or functionality described for Oracle's products remains at the sole discretion of Oracle.